We love our ambassadors, and our ambassadors love food! Dr. Genieve Burley, one of these lovely ambassadors, has got us thinking about using fresh ingredients and making a delicious breakfast treat. Scones can be served with clotted cream and pumpkin butter. This is enough for 8-10 people, you can halve the recipe or freeze the extra!
Ingredients:
4 cups of all-purpose organic flour (I like Anita's from Spud)
2/3 cup sugar (I like organic cane sugar)
2 tsp baking powder
1/2 tsp baking soda
1 tsp salt
1 cup unsalted butter
1/2 cup organic sour cream
2 large eggs
2 tbsp fresh grated lemon
1/2 cup of fresh cranberries
Directions:
1. Put the butter in the freezer an hour before prepping scones
2. Pre-heat the oven to 400 degrees F
3. Mix dry ingredients together in a bowl
4. Grate the frozen butter with a cheese grater
5. Mix the butter with the dry ingredients with your hands until it's well mixed and resembles a coarse meal, add the grated lemon
6. In a separate bowl, mix the sour cream and eggs
7. In a mixer on a dough setting, or with a fork stir the sour cream and eggs into the flour mix until it forms a dough (may be sticky)
8. Place dough on a floured surface and rub flour on a rolling pin, roll the dough until it is 3/4 inch thick
9. Use a cookie cutter to cut out scones, and reform dough and cut until it is all used
10. Gently dimple the tops of the scones with your finger and place a fresh cranberry in the dimples
11. Cook for 15-17 minutes and let cool for 5
12. Serve warm with clotted cream and fresh pumpkin butter
And, she claims she can't top this recipe for pumpkin butter, so please check out this recipe from "Oh She Glows".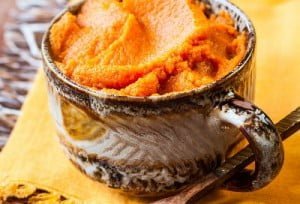 Dr. Genieve Burley is a Vancouver-based chiropractor and yoga teacher. She inspires her patients towards holistic wellness, and believes that we can achieve most of what we desire in health by how we love, EAT and exercise. Dr. Burley's chiropractic practice is located in Yaletown, and she incorporates nutrition and yoga in her treatment plans. She hosts yoga retreats and teacher trainings internationally. Genieve is a vegetarian, and has two daughters who share her love of good food and belly laughs.
www.genieveburley.com