There are so many great things about summer, but turning on the oven is not one of them. Unless you're baking an apricot almond tart. I don't know about you, but I'd prefer not to turn my apartment into a sauna before I'm about to sleep, so I'd rather have a dinner that I don't have to cook. Sometimes that's just large quantities of snap peas and hummus, but I know that's not for everyone. These no-cook meals will have wider appeal and you won't have to break a sweat making them:  

This tasty mixture is similar to tuna salad, but instead of tuna we use mashed chickpeas, which add a mild flavour and thick texture. It's protein packed and super delicious. In addition to a classic sandwich, we like to have it in a wrap, on crackers as a snack, added to a salad, or just eaten by the spoonful…it's that good! Get the recipe.
That's right, soups aren't just for cold weather! Gazpacho is a classic Spanish soup made from raw vegetables, making it perfect for summer. No cooking and a refreshing meal. Bonus: it's made from ingredients that are at the height of ripeness (aka. deliciousness) in the summer. Top it with some croutons for an added crunch.
Fresh spring rolls are easy, delicious, and super versatile! With a few basic ingredients they're great for adding in whatever veggies you have in your fridge. They're also an awesome meal to have at a gathering; everyone can bring an addition for the spring roll and then have a party creating (and eating!) rolls.
4. Appie Board
Sure, this isn't technically a meal, but it can be! Usually on a Friday night (but any day will do), my partner and I assemble goodies like bread, cheese, olives, hummus, chopped veggies, and maybe some fruit (berries, grapes, figs, etc.). We have wine and snack away, while watching a movie (or a BBC Earth nature documentary, because they're the bomb). In the spirit of beautiful summer weather, this would also make a great picnic.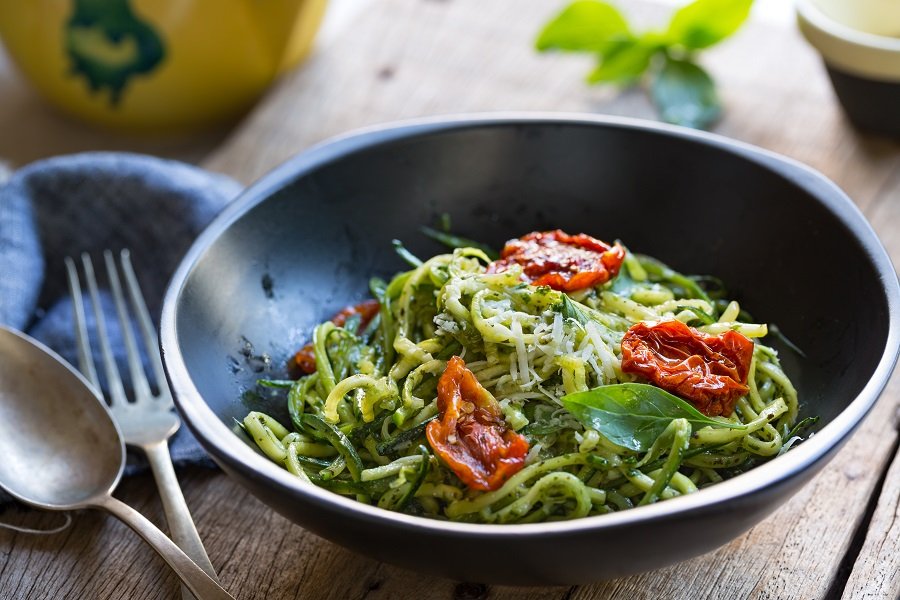 5. Zoodles
Whether you have your own spiralizer or you're getting zoodles delivered in your Spud order, they make a tasty summer meal. Plus, they are a great way to use up all that summer zucchini. Depending on the texture that you want your zoodles to be this can involve turning on the stove, but only for 2-5 minutes! Making avocado pesto zoodles is probably our favourite way to prepare them, but the options are endless.
6. Hearty Salad Bowls
They go by many names (bliss bowls, buddha bowls, dragon bowls, etc.), but they're possibly the easiest meal to throw together with whatever you have on hand. We're not just talking about a bowl of leaves here; they generally include some sort starch (ex. grains cooked in a rice cooker or pita bread), a protein (tofu, beans, or fish), veggies (cucumbers, peppers, tomatoes, etc.), some leaves (lettuce, kale, cabbage, arugula), and something crunchy (nuts, seeds or croutons). Finally, top your bowl with a delicious dressing that combines well with the other flavours. Maybe even one of these 7 homemade salad dressings.
Now you're set for a week full of stove-free dinners! Do you have a favourite no-cook meal? Let us know in the comments.