Are you like my dad, who refers to salads as "rabbit food"? I'm here to tell you that it doesn't have to be!! Salad can be more than a boring arrangement of limp iceberg lettuce, mealy tomatoes, and dry cucumbers. It can be an exciting explosion of flavours and textures with a simple salad dressing! I obviously don't share my father's sentiments about salad.
Most of my salads are actually "bowls". They generally include some sort of starch (like cooked grains or baked potatoes), a protein (tofu, beans, maybe a couple of falafels), fresh or cooked veggies (cucumbers, peppers, tomatoes, roasted squash, etc.), some leaves (lettuce, kale, cabbage, arugula), maybe some sauerkraut for tasty tang and probiotics, something crunchy (nuts, seeds or croutons). The most important part of any salad – a satisfying and delicious dressing!
Here are some delicious salad dressing recipes that will make you crave salads, prep them in advance to have delicious lunches all week!
1. Spicy Ginger Sesame
¼ cup tamari

¼ cup unseasoned rice wine vinegar

2 tsp maple syrup

2 tsp sriracha (or more, if you like it spicy!)

3 tsp sesame oil

1-2 tsp fresh grated ginger (sub 1/4 tsp ground ginger)
Whisk or shake all ingredients to combine.
2. Lemon Garlic Tahini
½ cup tahini

¼ cup water (more, if necessary)

1 lemon, juiced

1 tsp maple syrup

½ tsp garlic powder

Salt, to taste
Whisk or shake all ingredients to combine.
This creamy vegan ranch is made with cashews instead of mayo, and lots of fresh herbs!
4. Hummus Hack
Feeling lazy, but you have hummus on hand? You can obviously add straight-up hummus to your salad or bowl. But if you want a dressing texture, thin out hummus with water! You can also add something tangy (like apple cider vinegar, lemon juice, mustard or even sauerkraut liquid) for more of a creamy vinaigrette.
5. Creamy Turmeric Dressing
¼ cup cashew butter (or sunflower seed butter)

¼ cup water

3 tbsp extra-virgin olive oil

3 tbsp apple cider vinegar

1 tsp turmeric powder

Salt and pepper, to taste
Whisk or shake all ingredients to combine.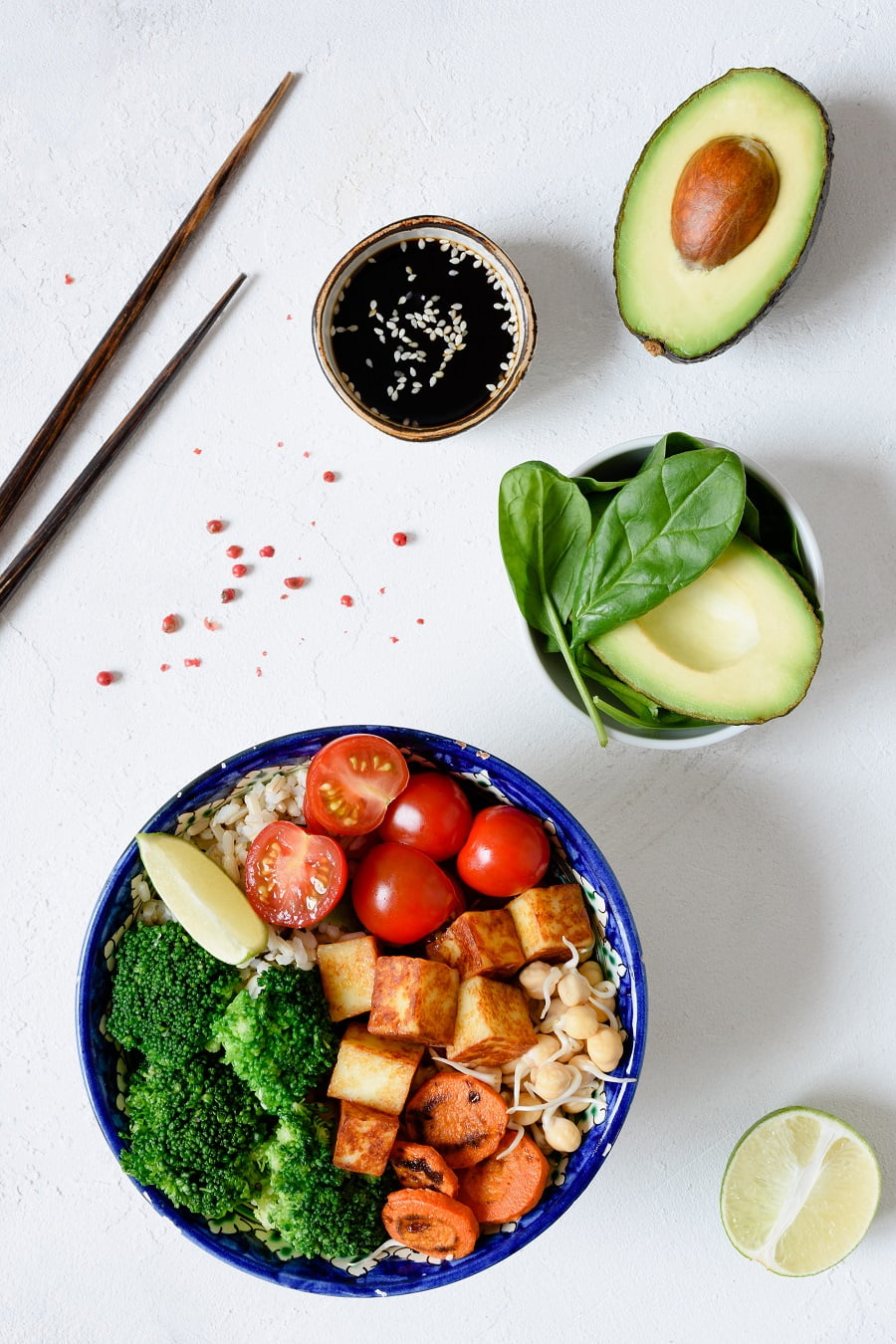 You will love it! Trust us. Made with fresh herbs and avocado for an extra-creamy and dairy-free dressing!
7. Mustard Cider Vinaigrette  
2 tbsp grainy mustard

¼ cup apple cider vinegar

2 tbsp maple syrup

½ cup extra-virgin olive oil

Salt and pepper, to taste
Whisk or shake all ingredients to combine.
If you want to eat healthier and/or meal prep, these salad dressings are a must. On the weekend, prepare a dressing (or two), your favourite starch, some roasted and fresh veggies, a protein, and some greens, and store them in separate containers. You'll have great building blocks for easy and healthy bowls throughout the week!