Soup may be one of the best foods to warm you up during the winter, but we definitely don't tend to associate soups with summer. To be fair, a hot bowl of thick chowder isn't exactly the first thing that pops into mind on a hot, humid afternoon. But does soup have to be such a seasonal dish? It turns out there are countless recipes that'll help you cool off during the warmer seasons.
The main key is to use fresh seasonal ingredients in your soup recipe. If you're making a hot soup, make sure that it will still taste good when cold. However, there are actually many chilled soup recipes that won't even require any heating–just throw them all in a blender and watch the magic happen. The best part is that you can save them as leftovers, because cold summer soups actually taste better as the flavours begin to blend and mingle.


Gazpacho is always the first thing that comes to mind when I think of chilled soups, and rightfully so! It's almost like drinking a really satisfying bowl of fresh, healthy salsa.
Chances are, you're already eating yoghurt. If you're not, you should really consider it because it can do wonders for your gut health. Yoghurt soup are perfect during the summer because yoghurt is most often enjoyed cold. Add refreshing and hydrating ingredients like cucumbers to your soup to stay cool and fresh.
Yellow tomatoes make excellent soups because it allows your herbs and spices to really shine, as it's not quite as overpowering in flavour as the classic red tomatoes. Top this soup off with some goat cheese crumble to complete your super healthy chilled soup.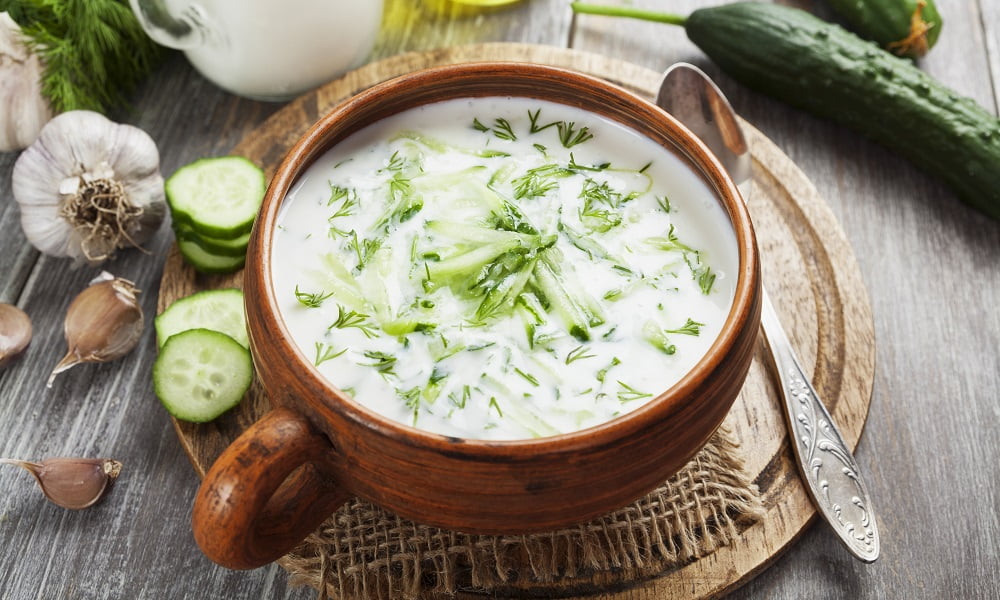 Fruits are one of the best things about summer. Nothing else can taste as fresh and juicy as your summer staple fruits such as raspberries and peaches. So, why not make them into a soup? 
This is the perfect recipe for if you're craving more of a wholesome recipe that will keep you full and energized. With incredibly nutritious ingredients like avocados, spinach, cherry tomatoes, basil, yoghurt, and chicken broth, this soup may easily become your favourite even through the winter months.
Have you tried summer soups? These recipes will help you stay cool and nourished during the hot summer months. Share with us your favourite cold soup recipes!