Here at Spud.ca we love to feature some of our favourite vendors. In honor of Women's Day, we are highlighting women lead and founded businesses that we have here at Spud.ca.  What Honest Dumplings cares about most is not "loving what you do", is "letting" the beauty to shine through. Honest Dumplings hope you love them not only because your taste buds sing when you eat them but that they also inspire you. Honest Dumplings – inspiration in every bite.   To learn more about Honest Dumpling's and how they started check out this vendor feature blog. 
Meet Ray, co-founder of Honest Dumplings.
What was your inspiration for starting Honest Dumplings?
I came to Canada in 2007 to pursue my Master of Laws degree at the University of Alberta. After spending a few years in Edmonton, I met a lot of people who are passionate about what they do, and are happy with their lives. I started thinking about what I truly wanted for my own life and what makes me happy. After working at a law firm for a few years after graduation, I realized that I wasn't passionate about law. All I wanted to do is to make delicious, creative food with simple ingredients. My husband, Chris saw that and inspired me to stop doing what I hated for my whole life and start listening to my heart. It was profound because I was able to let go of the things that I was holding onto for so long – what other people think about me, what everyone else is doing, what my culture expects me to do.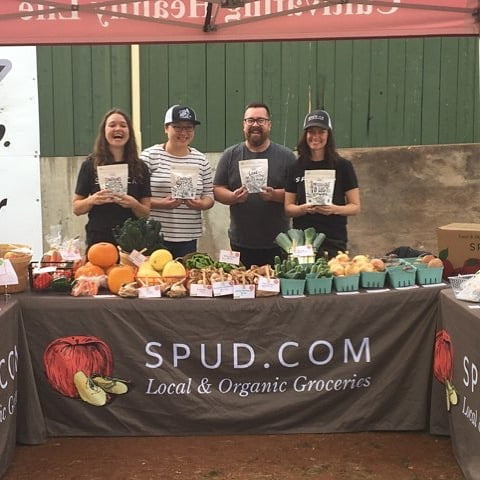 Our core value is to inspire people to find their passion, to encourage people to follow their hearts and make the change, to demonstrate that it can be done. Nothing can stop you from finding your happiness, and to create space for people to keep doing what they love and stay grounded. "Let the beauty of what you love be what you do"  I love this quote. It is the word "let" that makes all the difference. 

What is your creative process? How do you decide what to create? 
Our dumpling flavours are inspired by our favourite dishes that we tasted at home or a restaurant. We do staff dumpling making parties with our team. At the parties, our whole team come up with their own dumpling flavour ideas and make their own dumplings. Then we sat together, taste the dumplings, and vote for the best one. We have made a lot of limited edition flavours from our parties such as lemon brown butter rockfish, kimchi pork belly, General Tso's chicken, cranberry pesto chicken, feta cauliflower & potatoes. 
Flavours are featured that are inspired by special occasions such as Chinese New Year pack that has 3 dumpling flavours inspired by 3 Chinese dishes: pineapple sweet and sour pork, General Tso's chicken, cumin lamb. We also have Holiday Packs that we usually make around Thanksgiving and Christmas. It has turkey dinner, Brussels sprouts and bacon, spicy garlic ribs and sweet potatoes.
If you could tell yourself one thing before you started your business now, what would it be? 
There will be a lot of excitement, disappointment, laughter, tears, sweat, pain, frustration, sleepless nights, proud moments, stressful times that will make you feel you can't do it anymore. Make sure you keep going because starting Honest Dumplings is the best decision you have ever made!
What do you hope to be instilling in your customers through their purchase?
Here is Honest Dumplings's manifesto that I'd love to share with our customers:
We believe in good, healthy, convenient and creative food.
We believe that the first bite of something great is an experience worth having more than once.
We believe that food helps craft memories and should be enjoyed with friends and families at home.
We believe that success today isn't good enough for tomorrow which is why we push ourselves to always be improving and changing the way that we create – to enhance the way people enjoy our food.
Honest Dumplings is about more than just good food. It's about the pursuit of passion and following your dreams.
We believe that barriers of expectation in society have no place here.
Through what we've done we want to show anyone who has been afraid to pursue their passion that it is possible and inspire them to do it.
We'll even help!
Because for us it's not just about our own success but the success of others too.
To help them find the same joy that we found by taking risks and believing in what we love doing.
Which, for now, is making amazing dumplings.
Last but not least, what is your favourite dumpling flavour combination?
Maple Pork Belly! This dumpling has been one of our bestsellers since day one. Inspired by a classic Shanghai style dish my dad used to cook for me growing up. A combination of slow cooked melt-in-your-mouth pork belly, organic quinoa and fresh bok choy seasoned with Chinese dark soy sauce, maple syrup, and star anise, all wrapped in a chive infused dough. 
Tell us what your favourite flavour of Honest Dumplings are in the comments below!