Fall is officially here, and winter won't be far behind! Fall brings many seasonal favourites like warm comfort meals, pumpkin spice and cozy sweaters, but it also signals the start of flu and cold season and cooler temperatures are known to be associated with an increase in these infections.  
 Some of us have headed back to school or work by now (however that might look this year) but even with continued social and physical distancing we will be exposed to more people as we enter new phases.  It's important to eat healthy and exercise in order to keep our immune systems functioning at its best and now more than ever we need to stay on top of it! 
Although there are no "magic potions" that will guarantee a sick-free fall, there are many fall foods that are loaded with natural nutrients to help keep our immune systems strong! Check out these 5 favourite immunity boosting foods.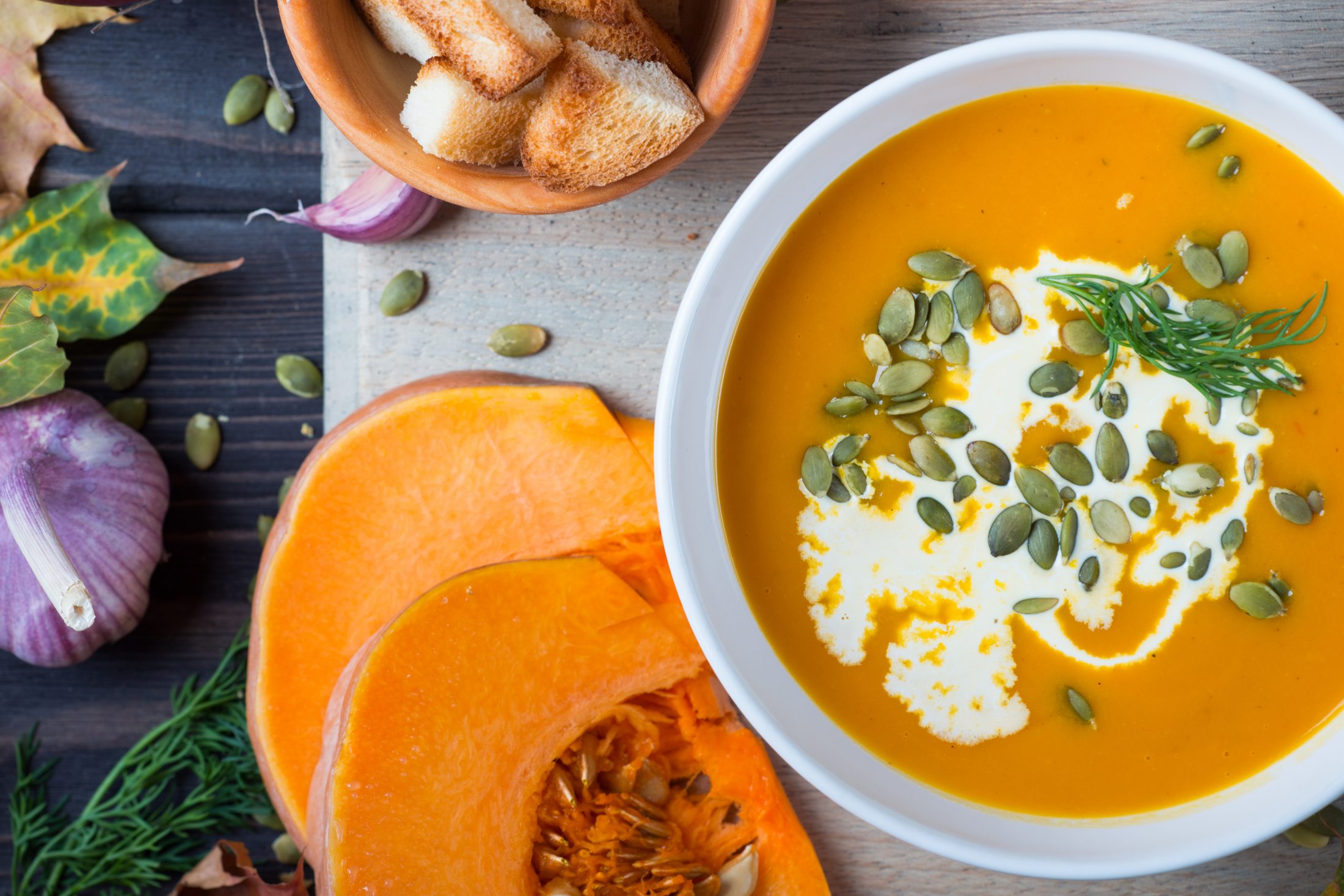 Garlic 
Garlic can help boost your immune system and researchers are discovering that this common ingredient assists in helping to kill bacteria and viruses (1). Garlic contains a compound called Allicin, which when crushed or chewed is said to release its immune-boosting properties. Garlic is a staple that can easily be added to most dishes. Making soup or stew? Throw in chopped garlic about 10 minutes before you're ready to serve it as it takes a few minutes for the Allicin in the garlic to be released. 
Sweet Potato 
A fall favourite that's packed with Vitamins A and C. Sweet potatoes are one of the richest natural sources of beta-carotene, a plant-based compound that is converted to Vitamin A in your body. Vitamin A is essential to building a healthy immune system. Additionally its key for maintaining healthy mucous membranes in the gut where your body is most exposed to many potential disease-causing pathogens. A healthy gut is the key to a healthy life! Check out our blog on 12 other reasons to love sweet potatoes!
Citrus Fruits 
Most people turn straight to Vitamin C after they've caught a cold or feel one coming on. That's because Vitamin C is thought to increase the production of white blood cells which are key to fighting infections. Almost all citrus fruits are high in vitamin C. With such a variety to choose from, it's easy to add a squeeze to most meals! Common citrus fruits with high amounts of Vitamin C include grapefruit, oranges, tangerines, lemons and limes! The recommended dosage for adults is: 75mg for women and 90 mg for men per day.  
Grapes 
One cup of grapes provides about a quarter of your daily vitamin C requirements. Grapes support the immune system through their natural anti-microbial properties. One cup of grapes it said to supply your body with 2.5 ounces of water which is important for hydration, circulation and healthy blood flow to rid your body of bad bacteria. 
Pumpkin 
Pumpkins aren't just for carving! The large dosage of Vitamin A helps to ward off infectious diseases and are said to contain nearly 20% of the recommended amount of daily Vitamin C. Try pumpkin oil or make your own pumpkin puree! Simply cut your pumpkin into quarters and roast at 350 degrees for 70-90 minutes. Cool and then puree the flesh into a food processor or blender. Use the puree for a wide range of baking or hearty dishes like soups and pastas.  
Looking for an immunity boosting smoothie? Check out our Creamsicle Immunity Smoothie!
Source (1): https://pubmed.ncbi.nlm.nih.gov/25961060/