Now that it is fall, and the rain and cooler nights are upon us, but that also means it is apple season. Arguably, our favourite season (we love apples so much it is our logo) it is also the time of year to make soup!   
This curried coconut apple and carrot soup is so easy to make. All the ingredients came in the produce staples box last week, and I still have some fantastic produce leftover! It also uses some pantry staples like coconut milk, olive oil and vegetable scrap stock, all staple ingredients I always have on hand.   
Grab your ingredients, your warm fuzzy socks and your favourite cozy sweater and make this warming curried coconut apple and carrot soup!  
Print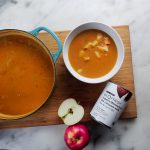 Curried Coconut Apple and Carrot Soup
---
2 tablespoons extra-virgin olive oil
1/2 a white onion diced
3 medium carrots, peeled and chopped
2 Granny Smith apples, peeled and chopped
3 stalks celery, chopped
2 medium potatoes, chopped
1 1/2 teaspoons curry powder
1/4 teaspoon red pepper flakes
1 (14 ounce) can light coconut milk
2 cups veg broth
2 tablespoons fresh lime juice
Salt and fresh ground black pepper
---
Instructions
Heat a large saucepan over medium heat, add olive oil then add onions, carrots, apples, celery and the potatoes. Cook, stirring occasionally, 5 to 8 minutes or until vegetables and apples begin to sweat. 
Stir in curry powder, red pepper flakes and 1 teaspoon of salt. Cook 2 minutes, and then add coconut milk and vegetable stock. Simmer soup until the vegetables are soft, about 20 minutes. 
Use an immersion blender to blend the soup until creamy. Remove from heat and taste and season to perfection. Serve into bowls and top with a squeeze of fresh lime juice and more pepper, chili flakes or fresh apples.