Fall is in full force and that means it's a soup-er time to make some vegetable broth. We showed you how to make a healing pot of bone broth, but did you know that veggie broth is even easier and can be made with saved up vegetable scraps? Reduce your kitchen waste and get a tasty homemade broth in an hour – that's a win-win in my books.
The process is simple and very forgiving. Save up vegetable scraps like carrots peels or limp veggies that have spent a bit too long in the fridge, and collect them in a freezer container. When you have enough saved up, you can make broth! In general, consider the balance of ingredients and recognize the difference between things you don't want to eat (onion skins – fine to add) versus things you shouldn't eat (rotten veggies – don't add). Play around with flavours and ingredients to find out what you like.

Scraps that are great:
Dried up/wilted vegetables
Green upper leaves from leeks
Celery leaves and ends
Carrot peels and tops
Onion skins
Mushroom stems
Potato or sweet potato peels
Wilted fresh herbs
Scraps to avoid:
Moldy or rotten scraps
Dirty scraps
Too many cruciferous or bitter vegetables
Too much of one vegetable – unless you want carrot broth
This recipe is great for using up scraps, but there are a few other ingredients that you may want to consider adding, especially if they aren't already included in your scraps.
Caramelized onion – you could use a leek, shallot, or something similar instead.
Celery adds a classic vegetable broth flavour
Carrot is perfect for a touch of sweetness
Mushrooms, especially shitake, can add a rich depth of flavour
Consider herbs and spices: Bay leaves, garlic, sage, rosemary and thyme can make tasty additions if you are going to use the broth as a base for soups, while ginger, turmeric, or lemongrass are great if you plan on using it in curries.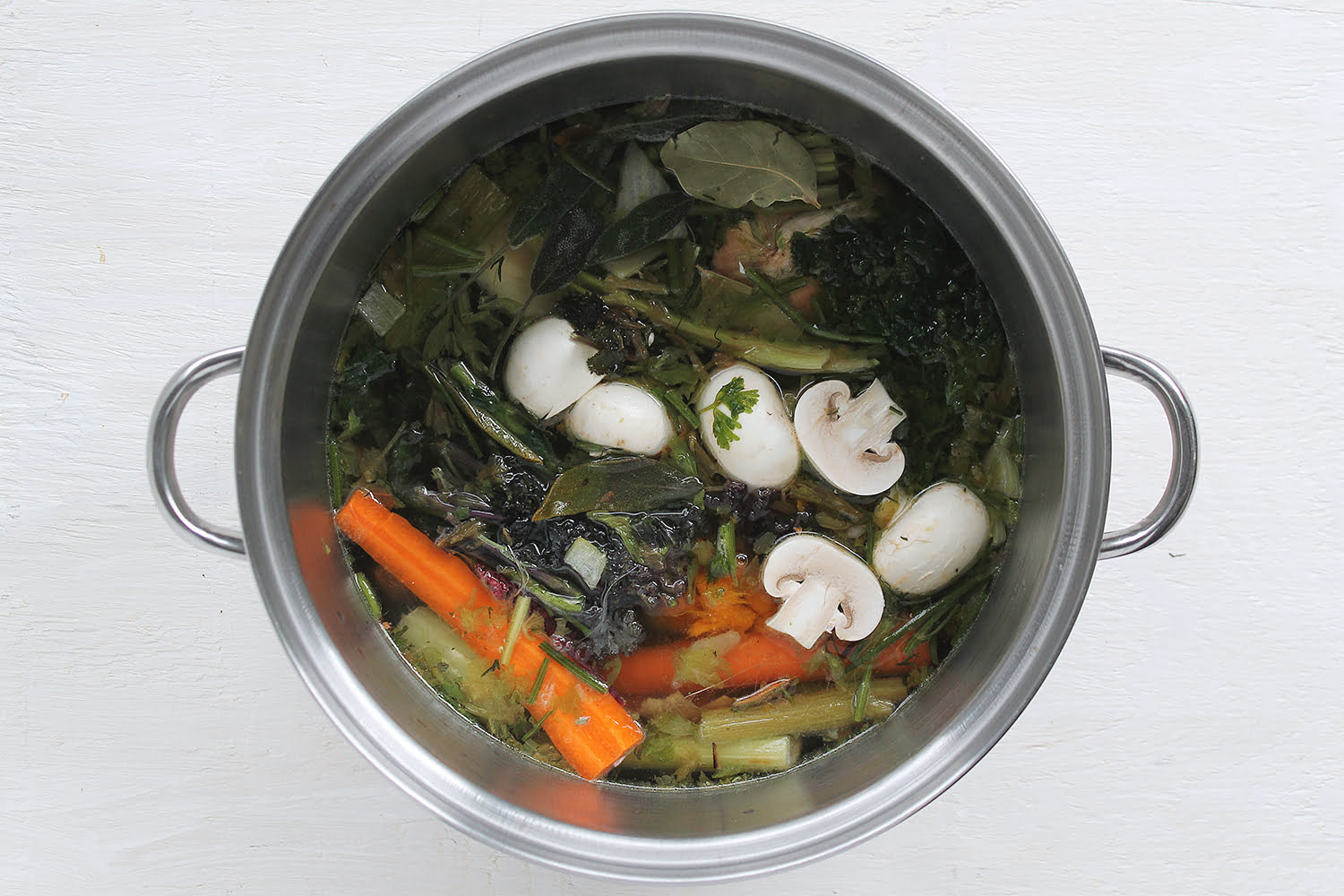 Once you've collected enough scraps and assembled your extra ingredients, you're ready to brew your broth.
Ingredients
3-4 cups Vegetable Scraps (with any added veggies as listed above)
1 onion
Splash of Olive Oil
Seasoning (2 bay leaves and a few sage leaves used in the broth pictured)
Salt and pepper to taste
8-10 cups Water
Directions 
In a large pot, caramelize the diced onion with a splash of olive oil.
Once the onion is browned, add a little water and stir to deglaze the pan.
 Add all ingredients to the pot and bring to a boil over medium heat.
Reduce heat and simmer for about 45 minutes.
Once the broth has cooled, strain the vegetables from the liquid.
Store broth in the fridge for a week or the freezer for up to 6 months.
Now that you have a beautiful homemade vegetable broth, here are a few things you can do with it: