With the dreary weather we get in the fall and winter, I think we all crave comfort food. If you were raised as an omnivore (which I was once), one of those comforting foods could be split pea soup with ham. In order to replicate that taste, I have come up with a vegan version and none of the taste is lost. This is super easy to make and can be stored for several days in the fridge or a few weeks in the freezer. Interested in more vegan comfort food, try vegan "chicken" noodle soup.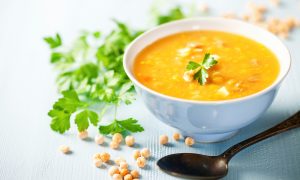 Vegan Split Pea Soup
Ingredients
3 Tb avocado oil (or oil of choice)
1 large onion, chopped
3 stalks celery, chopped
2 large carrots, chopped
1 ½ cups dried green or yellow split peas
8 cups vegetable broth
1 package of Yves Veggie Ham, diced
Salt & Pepper to taste
Directions
Put oil in a heavy large pot over medium-high heat, add onion, celery and carrots. Sauté until onions clarify and the vegetables begin to soften.
Add peas, vegetable broth and diced ham and bring to boil. Reduce heat to low. Cover pot and simmer soup until peas soft, stirring often, for about 1 ½ hours.
Leave chunky or using an immersion blender, puree the soup until smooth. Season to taste. Enjoy!
Tip: top with croutons or crackers for extra crunch!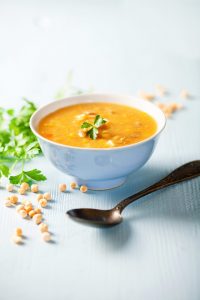 Susan Hollingshead
Susan is our resident vegan. She's been a vegetarian for 20 years, and a vegan for 4. She has researched both lifestyles extensively and is constantly exploring new recipes, add her own twist. She is a long time Spud customer, and now our very own resident vegan blogger!