Spud consulted one of our wonderful ambassadors, Jennifer Trecartin Brott, to get the insider scoop on how she stocks her pantry. Now that we know what she has in there, here is a creative recipe made with only ingredients from that list.
I consider myself a bit of a culinary wizard when it comes to making a meal out of what may appear to the untrained eye as an empty kitchen. If you keep your pantry stocked with my must have items above, you will be a few quick steps away from packing yourself a gourmet lunch.  Here is a go-to salad made entirely from items found in the pantry.
Ingredients:
2 ¼ c. Lentils
1 medium Red Onion, diced
1 c. dried Raisins
1/3 c. Walnuts
2 tbsp. Hemp Hearts
1/4 c. Artichokes
Vinaigrette:
1/3 c. Olive Oil
1/4 c. Apple Cider Vinegar
1 tbsp. Maple Syrup
1 tsp. Ground Cumin
1/2 tsp. Turmeric
½ tsp. Cinnamon
1/4 tsp. Cayenne Pepper
Salt and Pepper to taste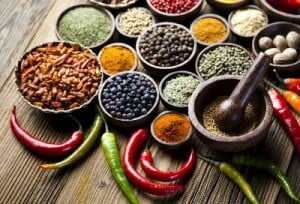 Directions:
1) Rinse lentils well, drain. Place in a pot and cover with a 3-4 inches of water, bring to a boil, reduce to simmer. Check lentils after 15 minutes, but they should take about 20 minutes in total. You will know they are cooked if they still on the al dente side of things.
2) While the lentils are simmering, make the dressing by placing all ingredients in a jar with a tight fitting lid and shake vigorously to combine.
3) Finely dice red onion, artichokes, raisins, and walnuts.
4) When the lentils are cooked, remove from heat, drain and place under cold running water to stop the cooking process. Once cooled slightly but still a little warm, place lentils in a large serving bowl and toss with dressing. Add onion, artichokes, raisins, walnuts, and hemp hearts before serving.