Ever wonder why some of your vegetables come out soggy and some do not even cook? I am here to give you 5 easy steps to roast the perfect vegetables every time! 
Step 1: Pick and sort your vegetables 
Pick vegetables that are hearty and in season! Carrots, broccoli, any type of squash, brussels sprouts, beets, onions, and mushrooms are all great roasting vegetables. Sort them by groups. Not scientific groups but on how long the cooking time will be.
Longer cook time: All types of squash, root veg, and onions and garlic 
Shorter cook time: Mushrooms, brussels sprouts, broccoli and cauliflower 
Step 2: Prep your vegetables 
Clean, peel and cut up your vegetables. Drizzle with olive oil and season to perfection with salt and pepper and your favourite seasoning. We love a traditional Italian seasoning or paprika for a nice spiced smoke finish. 
Tip: store your scraps in a container in the freezer and make veggie scrap broth. 
Step 3: Cook your vegetables 
Preheat your oven to 425. Line two baking sheets with parchment or a reusable silicone mat. Put the more hearty vegetables on one baking sheet and place the more delicate veg on the other. You want to do this to get the proper cook time.
Tip: make sure you do not overcrowd your pan or the vegetables won't cook evenly. 
For the more hearty vegetables, cook for 45 minutes and the for delicate vegetables, 20 minutes. 
Tip: Give the vegetables on both pans a flip about halfway through to get an even roast. 
Step 4: Enjoy your vegetables 
Season with a little extra salt and pepper or serve with a sauce like this tahini sauce from the vegan tofu and quinoa bowl. 
Step 5: Leftovers! 
Made too much and now have leftovers? Store the perfectly roasted vegetables in a clear glass container (so you don't forget about them) and eat within 4 days. Add your leftovers to salads, serve on top of rice or quinoa or eat on their own!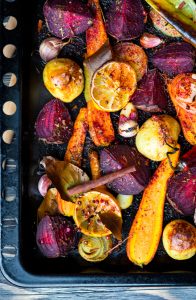 Check out other roasted veggie recipes and let us know your favourite!