It's no secret that food waste is one of the biggest problems in the world. Did you know that $31 billion worth of food was wasted in Canada last year? It's not only your own money that you're throwing into the trash, but also the accumulative effort and cost of energy, labour, infrastructure, transport, etc., which altogether exceed an overall cost of $100 billion.
Reducing food waste in our everyday lives should be a priority so we're going to give you some delicious recipe ideas that you can make with from food scraps. Prepare to be amazed.
1. Make a bone broth or vegetable stock.
Save the bones of whatever you're roasting–turkey, chicken, duck, or even pork chops–and make yourself a nutritious, delicious bone broth to get through the cold season. We've got a great bone broth blog to show you exactly how.
Leftover carrot peels? Celery about to go limp? Broccoli stems? Make a vegetable stock! Save the scraps in a bag and store it in the freezer to use at a later date when you have enough! To make the broth, cook up the scraps and drain out the remains after your broth is done. Get all the details here. 
2. Make a creamy soup.
Don't toss out those rigid kale stems or thick broccoli trunks just yet. Cook them with your usual soup ingredients like carrots, celery, and onion. When they're soft, blend them up into a creamy concoction. Enjoy your nutritious, fibre-filled soup.
3. Use cauliflower stems in a million ways
Cauliflower is so underrated for how versatile it is! Whatever you're feeling- a healthy pasta sauce, flavourful pizza crust, easy dip, or fun vegan wings, we have a recipe for you.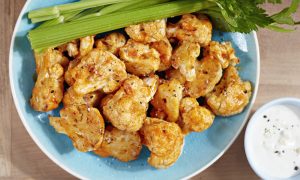 4. Make potato peel chips.
Just like carrot peels, potato peels are perfectly fine to eat as they are. And I personally prefer eating potatoes with the skin attached, but if you're not a fan, you can make chips out of them! Toss the potato skin in oil, salt, and pepper, and bake for 20 minutes at 450℉ in a preheated oven. Perfectly fresh, crispy, and healthy potato peel chips!
5. Make ice cream out of fruit pits!
Did you know that all those stone fruit pits you throw out can be made into ice cream? The pits have an intense, yet smooth and bitter almond flavour. Read more on what you can do with those pits in our stone fruit pits blog.
Have you tried any of these food scrap recipe ideas? We're committed to reducing food waste, so if you have any creative ways you can reuse food scraps, whether into recipes or lifestyle purposes, please share with us!