Although carrots are available all year round, they are currently at the peak of their season which means that they are showing off their freshest and most flavorful side! At Spud we are celebrating their abundance by feauturing them in this week´s produce specials.

Carrots are best known as Bugs Bunny´s favorite food and for their Beta Carotene content which promotes good vision, especially night vision. They are however also a great source of other essential nutrients such as fibre, magnesium, potassium, vitamins C and B6, thiamin and folate. All of these make carrots a great antioxidant food that helps combat health-damaging free radical activity. The deeper their color, the higher their beta-carotene and nutrient content will be.
Tips from Micky, our Produce Purchaser
Storage Tip: Remove green tops before storing since they will cause the carrots to wilt prematurely as they pull moisture from the roots. Store in a perforated plastic bag in the crisper. Avoid storing with apples, pears, potatoes and bananas as the ethylene gas emitted by them will make your carrots taste bitter.
Preparation Tip: Many of the nutrients are in the peel, so it´s OK to be lazy and just scrub them well under running water.
Did you know… The older a carrot is the hairier it becomes!
Culinary Compatibility: Almost every herb and spice, maple syrup, honey, vinegars, soy sauce, ginger and sesame oil. We´ve included an easy and delicious recipe for you to follow at the end of this blog.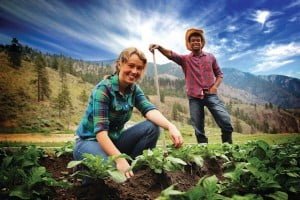 Our carrot´s home: Fairview Farms, Lilloet BC
Fountainview Farm is a place where eager students and experienced staff from Fountainview Academy unite to grow nutritious and delicious organic produce. They operate on a simple premise: nature's recipe is always the best. A combination of hot Lillooet sun, clean mountain water, and rich Canadian soil leads to amazingly delicious and healthy produce.
What to do with them:
1. Add water to carrots and bring to a boil. Once tender, drain and return carrots to pan.
2. Pour orange juice over carrots and let simmer over medium heat for about 5 minutes. Stir in brown sugar, butter, and salt. Heat until butter and sugar melt.