Dog Biscuits Made with Dog Safe Ingredients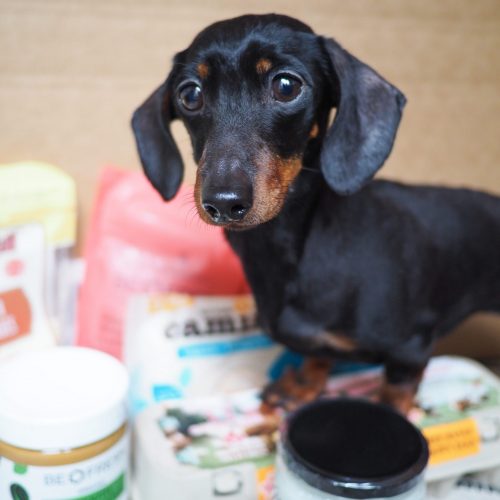 Our design team loves pets, and Alice's dog, Bun, is ready for the holidays with her dog biscuit recipe. Bun is 5 and a half and enjoys snoozing. You'll often find Bun on Alice's bike cycling around Vancouver with her Dog goggles on and getting into trouble stealing snacks. Bun's favourite holiday movie is The Grinch and she's hoping for endless treats for Christmas!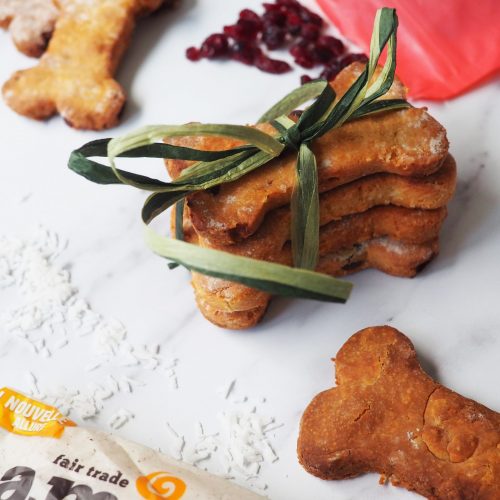 Print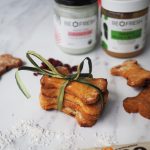 Dog Biscuits with Bun
---
1 and 1/2 cups almond flour
1 big spoon full of coconut oil
1 big spoon full of peanut butter (plus extra for your dog to lick)
1/4 cup cranberries
1/2 cup coconut flakes
1 egg
And a dash of water if it needs it
---
Instructions
You will need cookie cutters, parchment paper (they get sticky!) and a furry friend to help with washing up the mixing bowl!
Tip: be sure to check no ingredients have added sugars/xylitol. Be Fresh peanut butter is great as it's just peanuts!
Preheat your oven to 350 degrees and line a baking sheet with parchment paper.
In a stand mixer, mix almond flour, coconut oil, peanut butter and egg into a dough. If the dough is crumbly, add a dash of water until it comes together.
Add in the cranberries and coconut flakes and mix to combine.
Dust your counter with a sprinkle of almond flour and roll the dough to about 1/4 – 1/2 inch thickness.
Using a cookie cutter, cut the dough in shapes and place on your lined baking  sheet.
Bake for about 20-25 minutes, or until the biscuits are lightly golden and cooked through.
We've got lots of dog treats at Spud, be sure to check them out.