While Earth Day is often a time to reflect on how we can minimize our negative impact on the environment, it's the perfect occasion to think about ways to lower our pet's "eco pawprint" as well. Between their meaty diets, mountains of poop and piles of (mostly plastic) accessories, our furry companions can equal the carbon emissions of an average SUV in just one year. Here are five easy ways to green your pet care this Earth Day.
Go Green for Grooming
Look for products that work hard without putting your pet's health — and the environment — at risk.
The chemicals, synthetic colours and fragrances added to most dog shampoos, conditioners and grooming products can contain pesticides and suspected carcinogens. These can cause major skin irritation for your pup, including redness, painful hot spots, itchiness, and rashes. These chemicals also hurt local waterways when they're flushed down the drain.
Seek out formulations that are biodegradable, free of parabens and synthetic fragrances, and use organic ingredients wherever possible. Avoid what I call the "foul four': DEA (diethanolamine), SLS (sodium laureth), BHA (butylated hydroxyanisole), and synthetic colours and fragrances.
To try: Biodegradable pet shampoo from Soap Works that uses chlorophyll and cedar leaf essential oil to get your pet squeaky clean.
Buy Local
Just as we hit farmer's markets to get the freshest offerings from local producers, there are also great farm-to-table products for pets being produced close to home.  Sourcing from local companies has two benefits: lowering transportation carbon emissions AND supporting a local business. Bonus: Look for treats made with limited ingredients, like dehydrated salmon, turkey and shrimp, and grain-free treats sourced from local BC meats.
Products to try:
Dehydrated beef treats for cats, sourced from local farms.
Flax and peppermint dog biscuits made in Vernon.
Salmon-skin bones from BC fish.
Scoop the Poop
It's a common misconception that dog and cat poop left on lawns just washes away in the rain. In fact, discarded pet feces are a massive environmental issue, with the bacteria leaching into ground water sources. This in turn can lead to the contamination of drinking water sources, local waterways — and it can hurt marine life. Thankfully the solution is simple: Scoop that poop!  What you use to clean up is equally important. Conventional plastic bags can take anywhere from 10 to 1,000 years to break down, and produce harmful greenhouse gases as they do.  Seek out greener poop waste bags made from plant material that are certified compostable, or at least, break down exponentially faster.
Look for poop bag dispensers, like these ones from Earth Rated, that are made from recyclable plastic. 
Products to try:
Earth Rated bags. These contain an EPI additive that makes them break down faster. They also have white vegetable-starch bags that meet ASTM guidelines and can be composted.  
Ditch the Plastic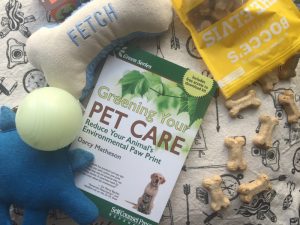 Have you ever given your pet a plastic toy only for them to destroy it within minutes?  Sadly, it's a pretty common occurrence and leads to tonnes of cheap plastic pet products ending up in the landfill annually. It's not just wasteful — these products can also be hazardous to the health of you and your pet, with many containing polyvinyl chloride (PVC), a chemical classified as a human carcinogen and a danger to animal health by the U.S. Environmental Protection Agency.  Plastic ends up in a wide array of inexpensive pet products, from clothes to beds to feeding dishes and toys.
This year, put your pet on a plastic diet. Opt for toys and products made from natural and sustainable materials that are eco-friendly — or at least eco-friendlier.
Swap plastic feeding dishes for stainless steel, and look for items made from things like wicker, wood, hemp, bamboo and organic cotton. For chew toys, seek out tough and sustainable items like natural rubber and braided canvas, that will stand up to the toughest playtime.
Products to try:
Real-tire natural rubber chew toy

BPA-free Bionic Bone (editor's note – these are INDESTRUCTIBLE)
Adopt Don't Shop

The number of companion animals euthanized each year in North America is staggering, and heartbreaking. The ASPCA says about 1.5 million were put down last year — their only crime was finding themselves in a shelter. The idea that most shelter animals are old, mutts or old mutts is antiquated and simply untrue: There are loads of vibrant, young and, yes, even purebred fur friends waiting patiently right now for someone to come get them!
If you're thinking of welcoming a new furry friend into your life this year, please consider adopting instead of going to a pet store or breeder.  You can start your hunt online through your local animal shelter, or head to Petfinder.com. If you're looking for a purebred there are loads of great breed-specific rescues that specialize in fostering and adopting.
Think of pet adoption as "the ultimate recycling": By rescuing a pet you are saving its life while also freeing up space for another to be taken in.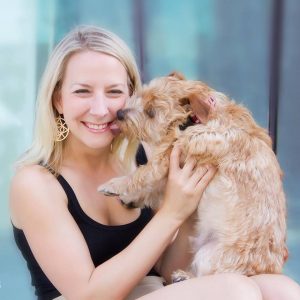 Darcy Matheson is a Vancouver-based pet blogger and the author of Greening Your Pet Care, a guide to sustainable pet parenting and lowering the carbon "paw print" of your four-legged friend. Passionate about animal welfare, Darcy is the proud dog mama to Seymour, a naughty terrier mutt, and Murphy Brown, a Norfolk terrier.