I think it's safe to say turmeric is having a moment. And while this earthy flavoured root is certainly good for you, not all turmeric recipes are necessarily delicious. That's what makes golden milk so fantastic – it's full of healthy turmeric, but still tastes like something you'd want to consume even if it wasn't.
This is a recipe which marries the tremendous health benefits attached to turmeric, to the magical creaminess of coconut milk (though the original recipe uses whole milk, we opted for coconut–and do we really need to explain ourselves?).
Golden milk is an ancient Ayurvedic drink that has been praised as not only delicious, but an excellent way to incorporate the incredible health benefits attached to turmeric. Traditionally, golden turmeric milk that been used to fight colds, congestion, headache and sore throats, but more recently, turmeric has been more widely studied for its health benefits such as:
Antioxidant

Anti-inflammatory

Aids in digestion

Antiparasitic

Anti-bacterial

Anti-cancer

Blood purifier

Clears the skin

Aids memory and brain function
Making golden milk is so easy, especially if you make a larger batch of 'golden paste' that you can keep on hand whenever you're craving a mug o' the gold stuff. Though the black pepper might seem like an odd spice in this mix, adding black pepper to turmeric spiced food enhances curcumin's (what makes turmeric so healthy) bioavailability by 2000%.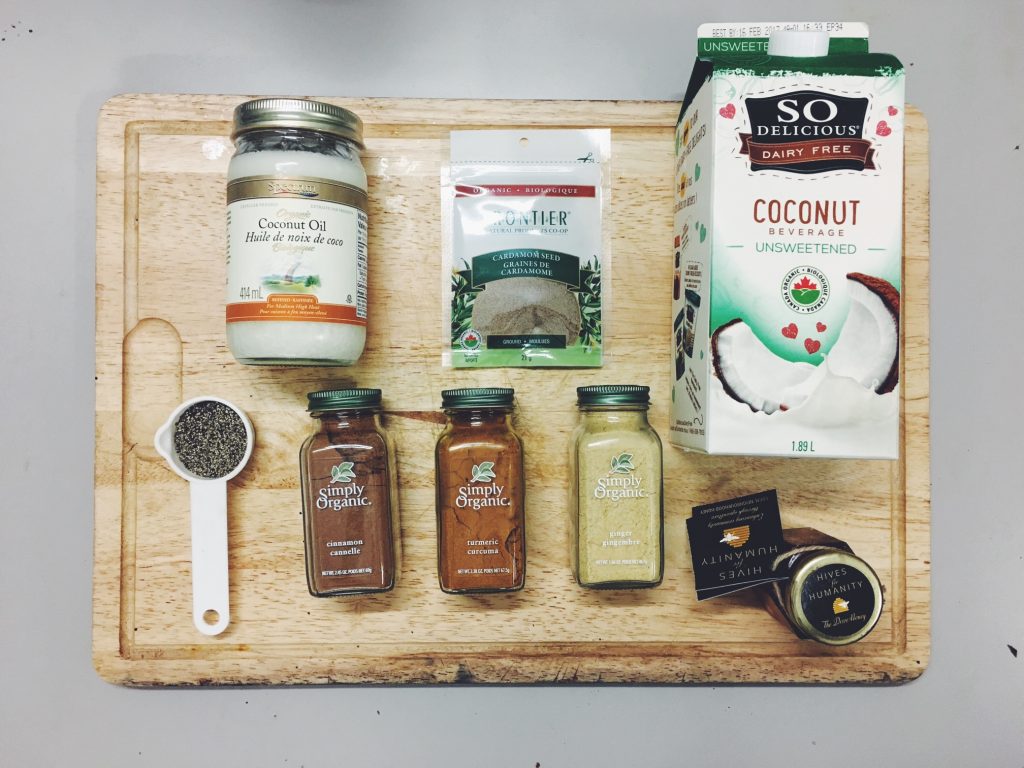 Ingredients:
½ tsp black pepper

1 tsp ginger powder

½ tsp cinnamon

½ tsp cardamom

¼ tsp salt

½ cup turmeric powder

½ cup filtered water, plus ½ cup more if needed

½ cup coconut oil

¼ cup raw honey, optional
Directions:
Combine the pepper, ginger, cinnamon, cardamom and salt in a small bowl.

Combine the turmeric and ½ cup of water in a small pot. When you've brought the mixture to a gentle simmer, add more water if you feel the water is boiling off so quickly that your spices will burn. Continue stirring until you have a paste.

Add your spice mix to the pot, and continue to cook, stirring often on low for 3 minutes, or until you have a thick and smooth paste.

Turn off heat and add coconut oil.

Add honey if desired as your mixture is cooling. Transfer your golden paste to a glass jar with a lid. This can be stored in the fridge for up to two weeks!
Now that you've got your Golden Milk Paste, you can enjoy golden milk regularly without having to start from scratch each time.
To make the milk, gently heat up one cup of milk (whichever kind you like, but it's so good with coconut). You want your milk to be lukewarm, not hot. Whisk in 1 heaping teaspoon of the Golden Milk Paste, and any honey or extra sweetener of your choice. Serve immediately.
Have you hopped on the Golden Milk train yet? What'd you think? Many people who drink golden milk regularly report noticing that the whites of their eyes becomes whiter, has anyone else noticed this? Looking forward to hearing from you!