Coronation grapes are one of the most popular grapes in Canada, and for a pretty cool reason: they were developed in Summerland, British Columbia! As a hybrid of two different grapes, coronation grapes burst with a unique hue of vibrant blue-purple. Although their season is devastatingly short from late summer to mid-fall, their juicy, refreshing, sweet-and-sour taste makes them one of the few justified consolations for the departure of summer.
Why you should eat Coronation grapes.
Like all grapes, the Coronation contains a good variety of vitamins and a loaded wealth of antioxidant phytonutrients that provide a myriad of benefits. Grapes have health properties related to anti-inflammation, the cardiovascular system, blood-sugar levels, anti-aging, cognitive, anti-cancer, and anti-microbial.
And the huge bonus about these Coronation grapes? They're seedless! Which means that they are perfect for making grape pies. We all know how tedious squeezing out grape seeds can be. Try making this delicious, grape pie this summer.
Print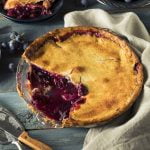 Coronation Grape Pie
---
1

recipe of your favorite double crust pie dough

4

cups

coronation grapes with stems removed

1/4

cup

sugar

2 tbsp

tapioca flour

2 tbsp

grape jelly (other jelly works too)
---
Instructions
On a lightly floured work surface, roll out half of the double crust pie dough into circle. Place it over a 9-inch pie dish, pressing the dough into the bottom. Trim the edges, leaving about 3/4 inch overhang. Cover and chill pie shell until firm (~30 minutes). Roll out the crust for the top and transfer to a baking sheet. Cover and refrigerate until ready to assemble the pie.
Preheat the oven to 400 degrees Fahrenheit.
Add the washed grapes to a large bowl or pot and mash them with a fork or potato masher. Stir in the tapioca flour and sugar and let it sit for 15 minutes.
Pour the grape filling into the pastry shell. Cover with top crust. Crimp and flute edges. Pierce top crust with a fork or knife to allow air to escape as pie is baking.
Bake for 30 minutes at 400° F and then reduce heat to 375° F and bake an additional 25 minutes, or until the filling is bubbling and the crust is golden.
Let the pie cool before serving so the filling has time to set.
Enjoy a nice slice of your grape pie with some vanilla ice cream, crème fraîche, or as it is!