Canned tuna may have a bad rep, but don't knock it 'til you try it. Canned tuna is surprisingly nutritious, easy, and affordable! It's a great way to jazz up a simple dish, up the nutrient content, and add extra protein to keep you full and satisfied. 
At Spud, we only sell Ocean Wise seafood products. Ocean Wise is a seafood conservation program that certifies seafood products if they meet particular standards. All canned tuna from Spud is Ocean Wise certified, so rest assured you are shopping sustainably. 
If you're cleaning out your pantry, or looking for fresh and new ideas for using canned tuna, check out these 3 "not your typical" canned tuna recipes. 
Avocado Tuna Melt Bites
These keto and gluten free friendly tuna melt bites pairs perfectly with a salad or as a tasty mid afternoon snack. 
Ingredients:
2 cans

canned tuna,

drained

¼ cup mayonnaise

1 medium

avocado,

cubed

¼ cup Parmesan cheese

1/3 cup almond flour

½ tsp. garlic powder

¼ tsp. onion powder

¼ tsp. Chili flakes

Salt and pepper

to taste

½ cup

coconut oil
Instructions: 
Add drained tuna, mayo, parmesan cheese and spices to a bowl and mix 

Cube avocado and fold into the tuna 

Form the mixture into golf ball sized rounds and cover with almond flour 

Heat coconut oil in a pan on medium heat and fry the tuna balls until brown on all sides. 

Serve with

chipotle mayo

or as a protein to your salad 
Tuna and Veggie Stuffed Zucchini 
No fancy ingredients necessary for these Zucchini tuna boats but most definitely a change from the regular dinner menu!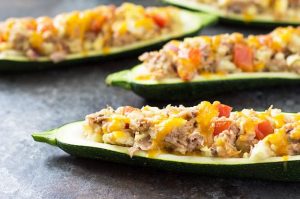 Your simple ingredients are zucchini, crushed crackers, sharp cheddar cheese, tomato, red onion, minced garlic, canned tuna and pepper. Find out how to put it all together on The Blond Cook's Blog! 


Easy Canned Tuna Pasta 
Most ingredients in this dish can be found in your pantry! Simple ingredients and easy prep. You'll have a hearty meal ready in a pinch. Serves 2-4.
Ingredients:
4 oz uncooked pasta of choice (we like whole wheat, gluten-free, or protein pasta)

1 can

drained tuna

2 large garlic cloves, finely chopped

2 tbsp olive oil

1 tsp lemon juice

½ cup finely diced onions

Salt and pepper

1 tsp herb of whatever you have on hand (we like fresh or dried parsley, or dried chives)

Pinch of red pepper flakes 

¼ cup peas (optional)

¼ cup Parmesan cheese (optional)
Instructions:
Bring salted water to boil. Cook al dente according to pasta instructions.

While water is boiling, prepare other ingredients. Add onion and oil to a pan, and cook for 2-3 minutes. Add garlic and cook for 30 seconds.

Stir in tuna, lemon juice, and herbs. Add red pepper flakes and peas, if using.

Once pasta is cooked, save ~2 tbsp of the pasta water and add it to the tuna sauce. Stir well. Drain the remaining pasta and incorporate it with the tuna mixture. Season with salt and pepper to taste. Sprinkle with Parmesan if using.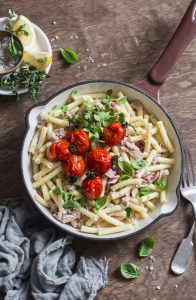 What's your favourite way to enjoy canned tuna? Let us know in the comments below!