Breakfast Cereal Recipes that Range from Savoury to Sweet 
While we love our breakfast cereal poured into a bowl and topped with milk, yogurt, or fruit, it's also a great staple to have on hand for making cookies and cereal bars or for using as a crust for a protein such as chicken, tofu, pork, or fish. Here are a few ways to cook with breakfast cereal. 
Spud has 25% off dozens of different cereal brands, shapes, and flavours from March 17-20! It's the perfect time to try something new.

Print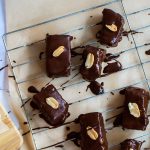 Cereal Bars
---
1 1/2 cups Nature's Path Honey'd Corn Flakes or Golden Turmeric Corn Flakes
1/3 cup Maple Syrup
1/2 cup Peanut Butter
1/2 cup dark chocolate chips
2 tsp coconut oil
---
Instructions
Add all bar ingredients to a food processor and blend until combined
Press into a pan lined with parchment paper and stick in the freezer for 2-4 hours
Melt chocolate chips and coconut oil in the microwave or a pot
Take out the cereal mix and chop it into bar sized pieces
Dip in chocolate and refrigerate or freeze for another 30 minutes until hard
Store in the fridge or freezer!
Print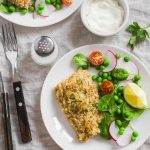 Cereal Crusted Halibut
---
2 tablespoon olive oil
4 Halibut Filets
2 cups Nature's Path Heritage Flakes/Millet Rice Flakes/Corn Flakes
1 cup panko
1/2 teaspoon Cold Grind Butter Chicken Powder (optional)
1 teaspoon salt- divided
1/2 teaspoon pepper
2 tsp minced garlic
1 tsp grated lemon rind
2 tablespoons parsley
2 tablespoon butter melted
1/4 cup dry white wine
1 tablespoon lemon juice
Lemon wedges for serving
---
Instructions
Preheat oven to 400 degrees.
Pour olive oil into a 9 X 9 ceramic baking dish and coat the bottom.
Place the fish filets in the dish coating both sides. Sprinkle with ½ teaspoon salt and pepper.
Bake 10 minutes.
Place cereal in a plastic bag and crush into crumbs, and combine with panko, parsley, garlic, lemon zest, the other ½ teaspoon salt and with melted butter.
Remove fish from the oven and pour the wine and lemon juice over it. Press the crumb mixture onto the fillets.
Bake for another 10 minutes and serve with the pan juices and lemon wedges.
Great with green beans, carrot and roasted potatoes or rice and the rest of the wine you cooked with.
Print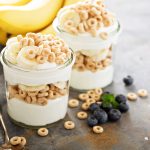 Cereal Parfait
---
4 cups vanilla yogurt
1 cup dried banana chips, crushed
1 cup fav cereal – loops are fun
2 large ripe bananas, sliced
1/4 cup unsalted dry-roasted peanuts, chopped
---
Instructions
Layer 1/2 cup yogurt,1/4 cup banana chips and 1/4 cup cereal into each of 4 parfait glasses
Top with 1 banana slices and ½ peanuts
REPEAT
Print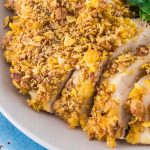 Simple Cereal Crusted Chicken
---
3 cups Nature's Path Heritage Flakes/Millet Rice Flakes/Corn Flakes
2 tbsp vegetable oil
1 teaspoon garlic salt
1/2 cup flour
2 eggs
1/4 cups milk
4 skinless, boneless chicken breast halves
---
Instructions
Preheat an oven to 375 degrees F (190 degrees C); grease a 9 X 12 baking dish.
Place the cereal in a large plastic zipper bag or sustainable reusable lunch bag and crush the cereal into crumbs. Add the garlic salt and shake the mixture together in the bag to combine.
Pour the cereal crumb mixture out into a shallow bowl.
In another shallow bowl, beat the eggs with the milk.
Dip each chicken breast half into the flour, then the milk mixture, then into the crumb mixture, coating the chicken well with crumbs. Place the coated chicken breasts into the prepared baking dish.
Bake in the preheated oven until the cereal coating is golden brown, the chicken is no longer pink in the center, and the juices run clear, about 35 minutes.
Print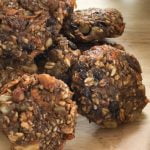 Breakfast Cereal Cookies
---
2 medium mashed bananas
1 medium grated carrot
1/2 tsp cinnamon
2 cups muesli with fruit
1/2 cup chocolate chips
---
Instructions
Heat the oven to 375°F
Combine all ingredients in a large bowl3
Scoop out into golf ball size cookies and lay the cookies on a baking sheet covered with parchment paper
Bake for 15 minutes.