Here at Spud.ca we love to celebrate women in our community and our women vendors. Meet Melissa from Spread 'Em Dips and spreads and learn all about her venture! 
What was your inspiration for starting up Spread 'em?
I've always I had a passion for creating delicious, healthy food. I also wanted to make a positive impact in the world through food in some way. And I felt there was a huge disconnect between the food I bought from the grocery store and food selected with the intention to nourish me. It all came together when I started selling dips at the local farmers market to earn some extra money to go traveling. I felt the job I had at the time was lacking purpose and connection and I wanted to take some time to think about my future, specifically about how I could affect people in a positive, meaningful way. And that's how Spread'em was born! The dips were easy and fun for me to make, tasted delicious and the ingredients were selected for highest quality not just the bottom line.
Fast forward to almost five years later and Spread'Em is sold in major retailers all across Canada, has its very own production facility, and is able to support a handful of full-time employees. We've not only been able to buy from our local growers through the ingredients we source, but we are starting to make an impact globally as well. We've been able to partner directly with cashew farmers, allowing us to have a hand in supporting those communities as well. I'm really excited about all the good we can do.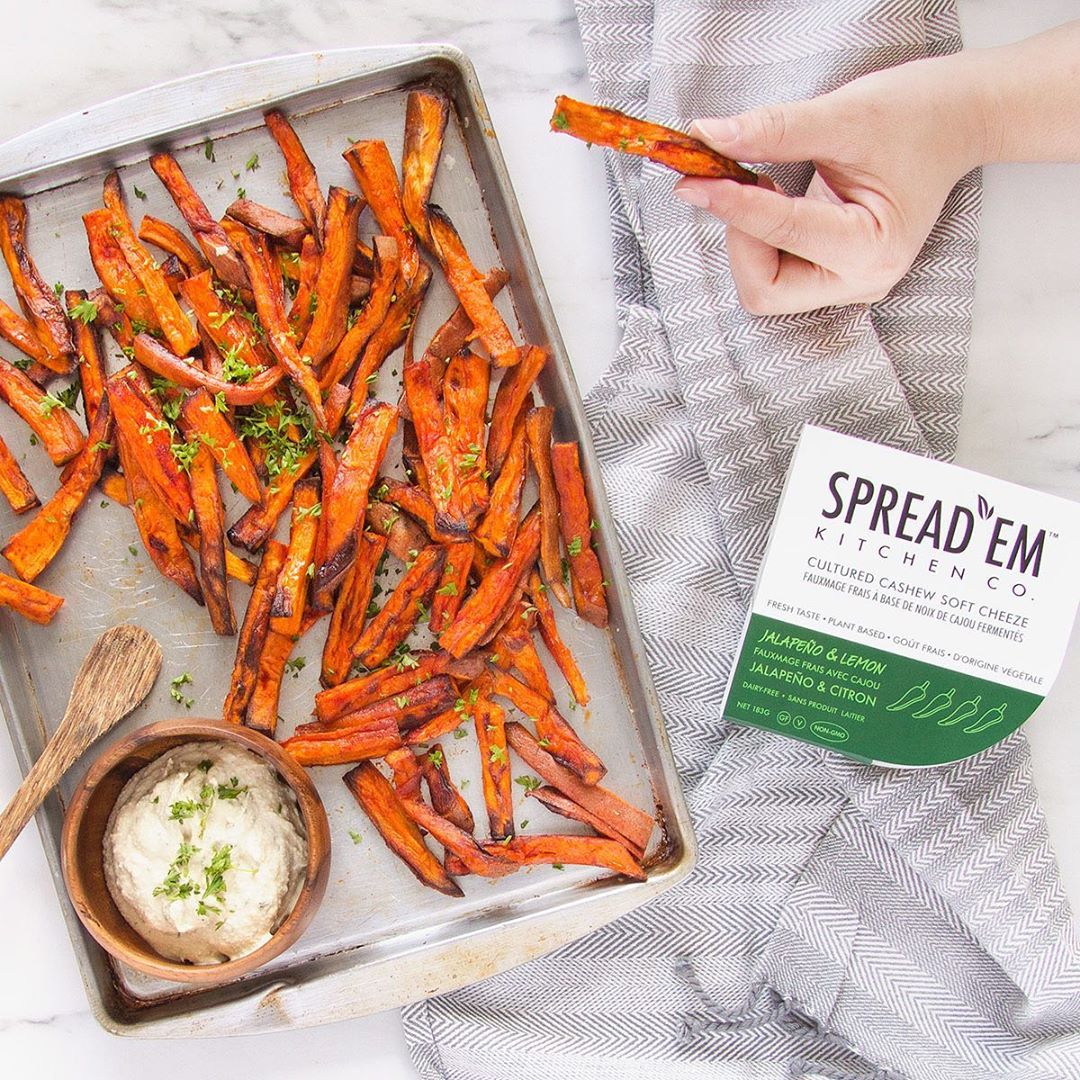 What is your creative process? How do you decide what to feature/create?
It usually starts by getting really excited about an ingredient or a flavour combo I make up or experience somewhere out in the world that I can't stop thinking about. I'm also a little crazy about optimizing my health with superfood boosters. Things like pine pollen or chaga, different adaptogens. I like using these ingredients in our farmers market experiments. They get people excited and asking questions like: "what the heck is that?" And then I can tell them about all the cool benefits and then they go home and do their own research. It's really fun!
Some weird combos I've come up with have been our creamy cashew base with charred black plum and pine pollen. Another favourite market experiment was sundried tomato with sea asparagus.

If you could tell yourself one thing before you started your business now, what would it be?
Part of me would say nothing because I wouldn't want to spoil the magic of how everything seemed to unfold. When I started I had no intention of turning it into a nationally distributed brand. I was looking for something fun to do that I could also make a living at. Today we are sold across Canada in over 800 stores. I still can't believe it!
I might tell myself to chill out about productivity. I lost a few good employees in the beginning because I was stressed that they weren't working as hard as me. Looking back now I think maybe I was expecting too much. I have enormous respect and gratitude for my team and I couldn't do it without them. I learned that if you're at 110% all the time it's not healthy or sustainable. Not for anyone. Not even me.
What do you hope to be instilling in your customers through their purchase of Spread 'em?
I believe that sharing food is one of the most intimate experiences we can have with one another. It's about trust. It's an experience that we center our lives around. As such, I believe that the food we eat should be good for us, fueling us to go out and do good in the world. When people purchase a Spread'Em Kitchen product they are investing in our vision to do as much good as possible. We guarantee to always use the best ingredients we can find. And we are committed to nourishing our customers with the best food, hoping it will give them the fuel to be the best they can be, physically and mentally.
Last but not least, what is your favourite thing to do with your dips and spreads?
I love testing out new recipes, substituting Spread'Em stuff for cream sauce and other traditional dairy ingredients. We have lots of fun recipes on the website. Check them out!