This super quick, vegan peanut noodles are the perfect mid-week dinner. It will be ready in less than 30 minutes and can be easily customized to what you have in the fridge! These peanut noodles call for red pepper and carrots but you can add mushrooms, cabbage, edamame beans, snow peas or whatever you have in the fridge. It can also be served cold for those warm days we are all looking forward to.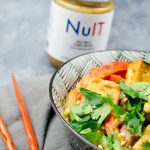 30 MINUTE VEGAN PEANUT NOODLES
---
Peanut Sauce
1/2 cup NuIT peanut butter*
1/2 cup of water
3 tbsp gluten-free soy sauce
2 cloves of minced garlic
1 juice of a lime
1-inch piece fresh ginger peeled and minced
2 teaspoons your favourite hot sauce
1 teaspoon neutral oil
Noodles:
1 Tablespoon neutral oil
1 Pack of firm tofu, cubed
1 pack of Lotus Rice Noodles
1 red pepper sliced
3 imperfect carrots peeled and cut into matchsticks (or one large carrot)
2 green onions, thinly sliced
1/4 peanuts roughly chopped
Half bunch of cilantro roughly chopped
---
Instructions
In a small bowl mix together all the ingredients for the peanut sauce and set aside. In a pan over medium heat, heat up the oil and crisp up the tofu. Cook the noodles to the directions on the package. Once the tofu is crisped to your liking set aside and add the cooked noodles to the pan. Add the peanut sauce, peppers and carrots and toss to combine. Add in the tofu and toss again. Serve and garnish with cilantro, peanuts and green onions. 
*We used NuIT because it is your multivitamin in a tasty form. NuIT peanut butter is full of micronutrients which can be hard to get on a plant-based diet. It is made with whole food ingredients, without any added sugars or artificial flavors. You will have to try it for yourself!