In honour of Women's Day, we are highlighting some of our amazing women lead vendors that we have here at Spud.ca. Let us introduce you to Natalie from East Van Jam.
What was your inspiration for starting up East Van Jam?
There were a handful of factors that played into how East Van Jam came to be. First was that as a family, we decided I would not return to my corporate job after having our second child – that I would be the primary caregiver to our two boys. Second was our prolific Santa Clara plum trees – every season we would harvest more fruit than we could handle even after sharing with the many neighbours on our street who've been enjoying them for years. I'd make low-sugar jam for our household and for friends/family, trying to keep our sugar intake to a minimum. Third was my friend's artwork. A long time friend would treat us to little hand-drawn, watercolour portraits of made-up characters and hide them in our home when he and his family were visiting. The final piece to the inspiration story of East Van Jam was that while I was fortunate enough to stay home and raise our kids rather than put them in daycare, I often felt I needed my own separate purpose – something more.
I was inspired to share my love of canning as much as I could and so with a friend began teaching canning classes in the evenings to folks in my community. I held workshops at community centres, neighbourhood houses, private homes and in stores. It was a great way to help people become comfortable with the idea of preserving their own food, but one question kept coming up in my 'intro to canning' workshops where I taught folks to make low-sugar jam: "if we can make this low sugar jam for ourselves at home, why isn't there an option for purchase at the grocery stores? Why isn't low-sugar jam already available on the shelf?"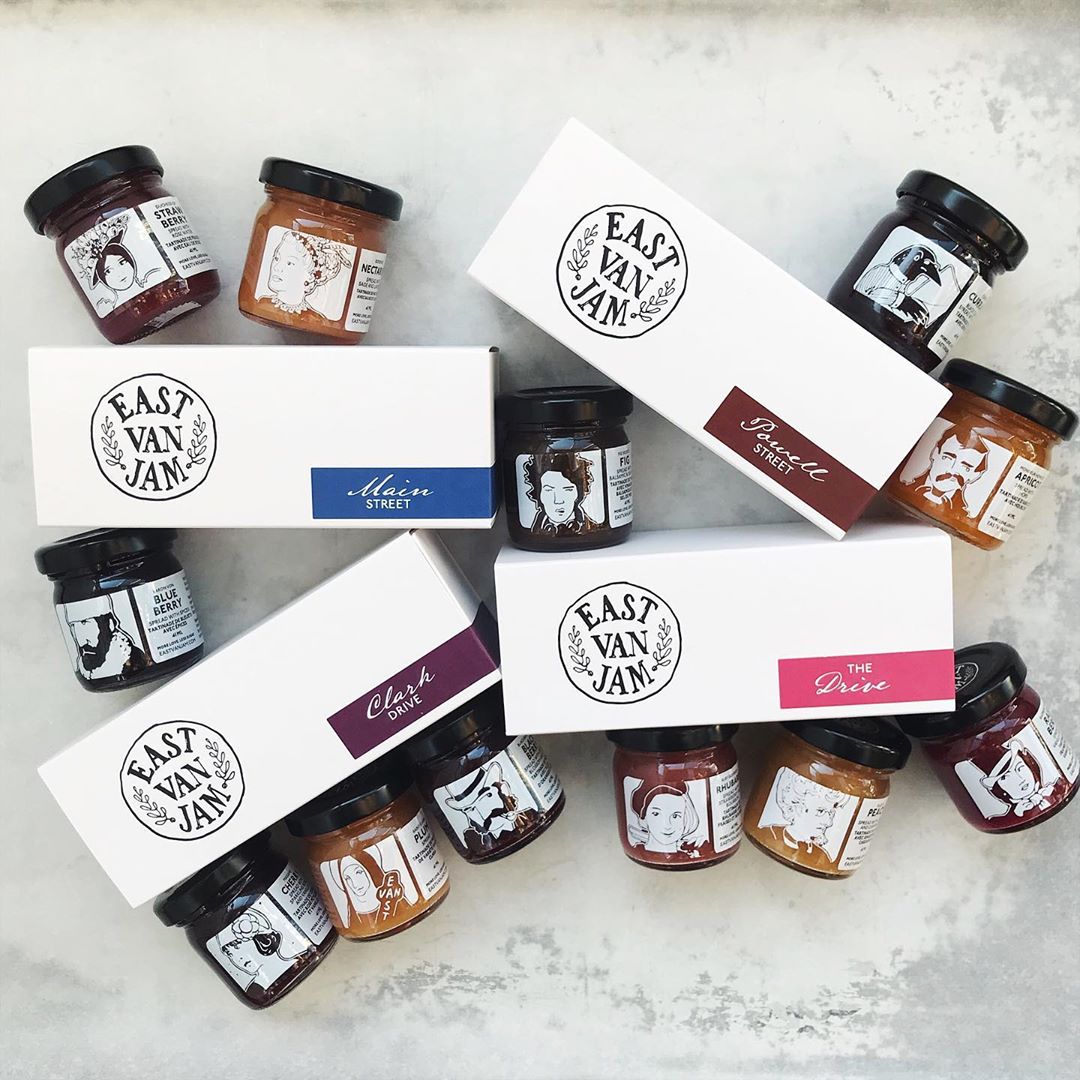 Inspired by the desire to share this low-sugar goodness beyond our neighbourhood, I did the research to understand the answers to this question and make a low-sugar jam available to consumers in Vancouver. It meant that launching a low-sugar jam product had to include a major education piece telling customers about the trade-offs of a low-sugar jam option. Low-sugar jam means that all the water within the fruit does not get fully saturated by sugar and therefore, that resulting water activity leaves a susceptibility for the jam to form mold if left open in the fridge more than 2-3 weeks. A one-to-one sugar to fruit ratio is the norm and this allows us to leave a jam in the fridge almost indefinitely. There are products on the market that offer 'no added sugar' or 'low sugar added', but these almost exclusively come with the addition of chemical preservatives such as Calcium Chloride and Sodium Citrate. Instead of all the sugar, you are offered preservatives with your fruit. What that all means is that real fruit preserved with way less sugar and no chemical preservatives has the trade off of having to be eaten faster (or be put it in the freezer to extend it's life).

Anyhow, back to those plums! My husband quickly came up with the imagery of St Claire Plum – after Saint Clare of Assisi – a nod to the Italian Catholic community so prominent in our area of East Van. We took some liberties creating our version, so rather than having St Claire hold a staff or lantern as commonly seen, we depicted her holding the East Van cross instead, thereby tying a great number of elements into one cohesive image. And to help confirm our certainty of doing so, we discovered I share the same birthdate as Saint Clare!
With the joyful willingness of my pal to draw original artwork for each flavour, we quickly began work on other characters. All these factors came together to form the basis for this budding venture.
What is your creative process? How do you decide what to feature/create? 
Having established this first character/flavour, the flood gates opened wide and new flavours and personalities came almost unbidden. However, given that we are avid gardeners and had been preserving our own harvests for many years up to this point, it seemed a natural fit to restrict my sourcing policy to that of using only fruit grown in British Columbia. With the aim of keeping our carbon footprint to a minimum and to support growers here in our home province, it felt like an obvious choice to buy locally and celebrate what BC has to offer. This helped me to focus my attention on berries grown in the Fraser Valley and stone fruit grown in the Okanagan. Each character was inspired by a single ingredient: the fruit for which its name and jam is made. Once the fruit was chosen as a focus, sometimes the recipe was developed and the character followed and other times the character came first and the recipe was developed after that character's 'personality' traits. For example, Nectarines are a favourite fruit of mine and I went for the rhyming name of Serene Nectarine. From there, I took inspiration from my friend and colleague who always emphasized practicing 'loving kindness'. Serene Nectarine became a calm and thoughtful woman who enjoys quiet time in her garden, but who shares her bounty with love. Her calm demeanor is helped along by lavender and sage – herbs from her garden. And there, was born Serene Nectarine with Sage and Lavender. Many of the unique flavour pairings were chosen in this way and finalized only after many recipe tests to ensure my whimsy wasn't leading me astray. I was able to find old black and white photos to help me portray a personality when asking my friend to draw out the characters. These images I delivered to him, along with the jam names and character traits, were what helped him in his process of creating original artwork for each flavour of East Van Jam.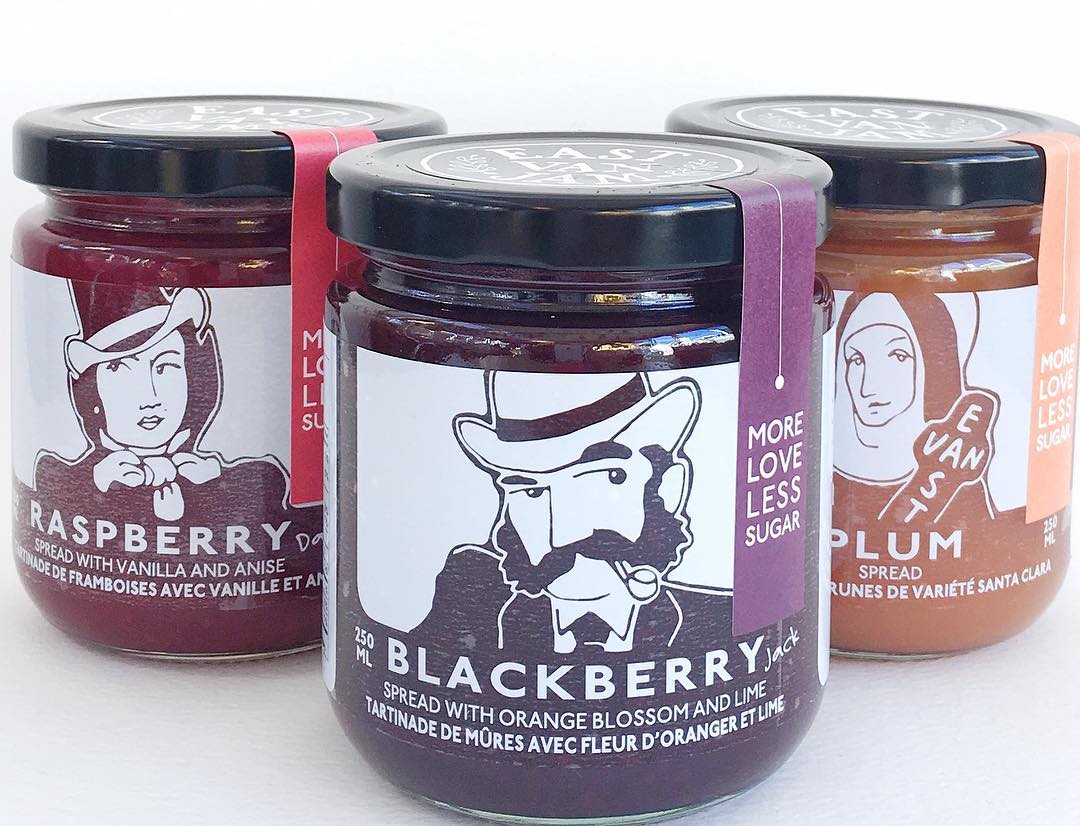 If you could tell yourself one thing before you started your business now, what would it be? 
Don't expect it to be simple or easy – the more you grow, the more complicated things become, but trust in the process and don't be afraid to hire and trust good people to work with you.
What do you hope to be instilling in your customers through their purchase of East Van Jam?
That customers get to – and should – demand better!  We all work hard for our money and we work hard to be healthy and so why not vote with our dollars to get REAL food as well as healthier options.  Real fruit – without fillers, concentrates or preservatives – costs more, so if you want better for you and your family, choose a small thoughtful brand that is pouring their heart into making the food on offer a better option and being honest about the costs and quality.  
Last but not least, what is your favourite thing to eat with your jam?
Honestly, life is busy and the most common way I enjoy my jam is on a whole wheat piece of toast with peanut butter!  It's a great breakfast – simple, wholesome and quick but packs enough quality calories to tide me over until lunch!  When I have more time and need a sweet treat for hosting friends, I like to make jam tarts using my grandma's pastry recipe – so simple and easy, but delicious and always well-enjoyed!