Well, the holidays are over and for some, it's time for a reset. If you don't feel like doing our juice or soup cleanses, no problem – they're not for everyone. Instead, a "reset" can simply be enjoying healthy foods. For me, a reset always includes a smoothie: whenever I feel gross after a long weekend or holiday, or my body is simply craving a large influx of fresh fruits and veggies, I always start my day off with a smoothie. This January, it's my winter green smoothie. 
My smoothies differ from summer to winter. In the summer, I load up on fresh fruits in my smoothies, like fresh grapefruit in this Coolin' Summer Smoothie. In the winter, I usually go for frozen produce like blueberries and spinach or make my warm smoothie recipe (it sounds weird, but don't knock it till you try it). During the post-holiday season, here's my favourite winter green smoothie recipe.  
Winter Green Smoothie
This is similar to our Morning Glow Smoothie but without parsley and cilantro. Personally, I'm not a fan of cilantro in smoothies, but if you want to add the extra herbs – go for it! Also, if you want extra creaminess, feel free to throw in a 1/2 chunk of frozen banana or 1/2 an avocado. 
Print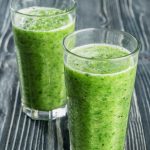 WINTER GREEN SMOOTHIE
---
1/2 cup frozen blueberries
1 tsp size chunk of ginger
1/2 cup water (feel free to add more or less – it depends on how thick you like your smoothies)
1/4 cup spinach or 1 kale leaf
1/4 cup frozen cauliflower
1 tsp chia seeds
1/4 tsp cinnamon
1/4 lemon
---
Instructions
To make, simply blend on high for 2 to 3 minutes until fully blended and enjoy!
What's your go-to winter green smoothie? If you have one, we'd love to hear!