It's officially pumpkin season…ah, I mean fall! But seriously who doesn't like soft, buttery pumpkin cookies with a salted maple frosting!? These gluten free cookies use coconut and almond flour and are sweetened with organic cane sugar and maple syrup. These cookies taste like a slice of pumpkin pie and are topped off perfectly with a creamy maple frosting. Trust me when I tell you that you won't be able to just eat one!!
Print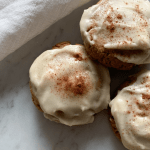 Healthy Pumpkin Cookies with Salted Maple Frosting
---
Description
1/4 cup coconut oil (melted and cooled – I used the Be Fresh coconut oil)
1/3 cup pumpkin puree
1/4 cup organic cane sugar (I used
1 tbsp pure maple syrup
1 egg
1 tsp vanilla extract
1 1/2 cups packed fine almond flour (I used Bob's Red Mill)
3 tbsp coconut flour (I used Bob's Red Mill)
1/4 tsp baking soda
1 tbsp pumpkin spice (I used the Be Fresh pumpkin spice)
1/4 tsp salt
Frosting Ingredients:
1/2 cup powdered sugar
1 tbsp pure maple syrup
1 tbsp unsweetened almond milk (you can add 1 more tbsp if frosting is too thick)
1 tbsp melted butter
---
Ingredients:
Preheat oven to 350 degrees and line a large baking sheet with parchment paper and set aside.
In a large bowl, add the coconut oil, maple syrup, pumpkin puree, sugar, egg, and vanilla extract. Mix well until combined and smooth. Next add in your almond flour (make sure you really pack it down!), coconut flour, salt, pumpkin spice and baking soda. Mix well until a dough forms and let it sit for 5-10 minutes.
Roll your dough into golf sized balls and place on the cookie sheet then flatten each dough ball with the palm of your hand, but still keep the cookies nice and round. They should be about 1/4 inch thick before baking. Bake for 8-11 minutes.
Remove from the oven, transfer to a wire rack and allow cookies to cool completely before frosting. This recipe makes 12 cookies (I would personally recommend doubling it cause let's be honest, your going to eat multiple!)
For the frosting:
In a small bowl, mix together the powdered sugar, pure maple syrup, melted butter and almond milk. Add a pinch of sea salt to taste. If frosting is too thick, you can add 1/2 tablespoon more to make it spreadable. Frost each cookie and sprinkle the tops of frosting with a little cinnamon (or more pumpkin spice).
---