With the nights longer and the days shorter, sip on these blood orange cocktails to brighten up your winter nights. Dream of the time of sippin' boozy lemonades all summer long or snuggle up with a cozy blanket next to the Netflix yule log (or a real one if you have one) and become your own mixologist. These blood orange boozy cocktails all have a ruby hue and a sweet-tart taste from the blood oranges that pairs well with almost any spirit. There is a cocktail for everyone on this list. 
Blood Orange Screw Driver 
The woody, evergreen flavour from the rosemary meets the sweet-tart blood orange juice making this the perfect Sunday brunch cocktail.  
Ingredients 
ice 
4 ounces chilled vodka 
12 ounces blood orange juice 
3 sprigs of fresh rosemary 
Instructions 
Fill two glasses with ice cubes. In a cocktail shaker filled with ice add the vodka and the blood orange juice and one sprig of rosemary. Shake and strain the cocktail into the ice filled glasses. Garnish with a fresh orange wedge and a sprig of fresh rosemary. 

Make this gorgeous, hot pink cocktail on your next virtual happy hour and everyone will be jealous. The perfectly sweet and spiced sugar rim with the tart blood orange drink will make this bourbon filled cocktail your new favourite.  
Blood Orange Gin
 and tonic 
A classic with a fresh twist perfect for the sunny days during the crisp winter season.  
Ingredients:  
2 ounces fresh blood orange juice 
1 1/2 ounces gin 
1/2 ounce fresh lime juice 
1 orange zest twist 
4 ounces tonic water 
Instructions:  
In a cocktail shaker filled with ice, combine blood orange juice, gin, lime juice and bitters. Shake vigorously for at least a minute. Strain into a glass with ice. Top with tonic and garnish with a blood orange slice.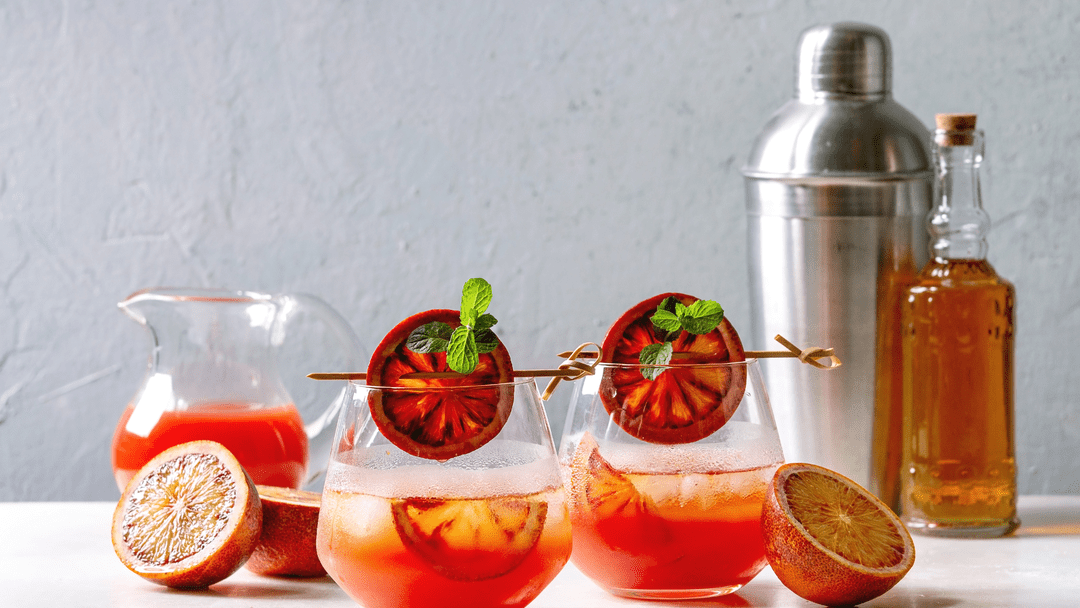 All citrus share the similar tangy, sour yet refreshing flavours. We took our satsuma mojito and substituted the satsuma for a blood orange to make this delicious blood orange mojito.  

Orange Cardamom Bubbly
A twist on a brunch favourite. This blood orange bubbles will help you celebrate any winter festivities from brunch to ringing in the new year.  
Ingredients 
 
3 parts freshly squeezed blood orange juice 
sparkling wine  
1 part vanilla-cardamom simple syrup 
Simple syrup:  
1 part granulated sugar 
1 part water 
pinch of cardamom 
1 teaspoon vanilla extract 
Instructions.  
Make the simple syrup by heating water and sugar over low heat until combined. Take off heat and add vanilla and cardamom and stir and let sit for 15 minutes.  Mix blood orange juice and vanilla-cardamom syrup in a glass Add sparkling wine, stir and enjoy!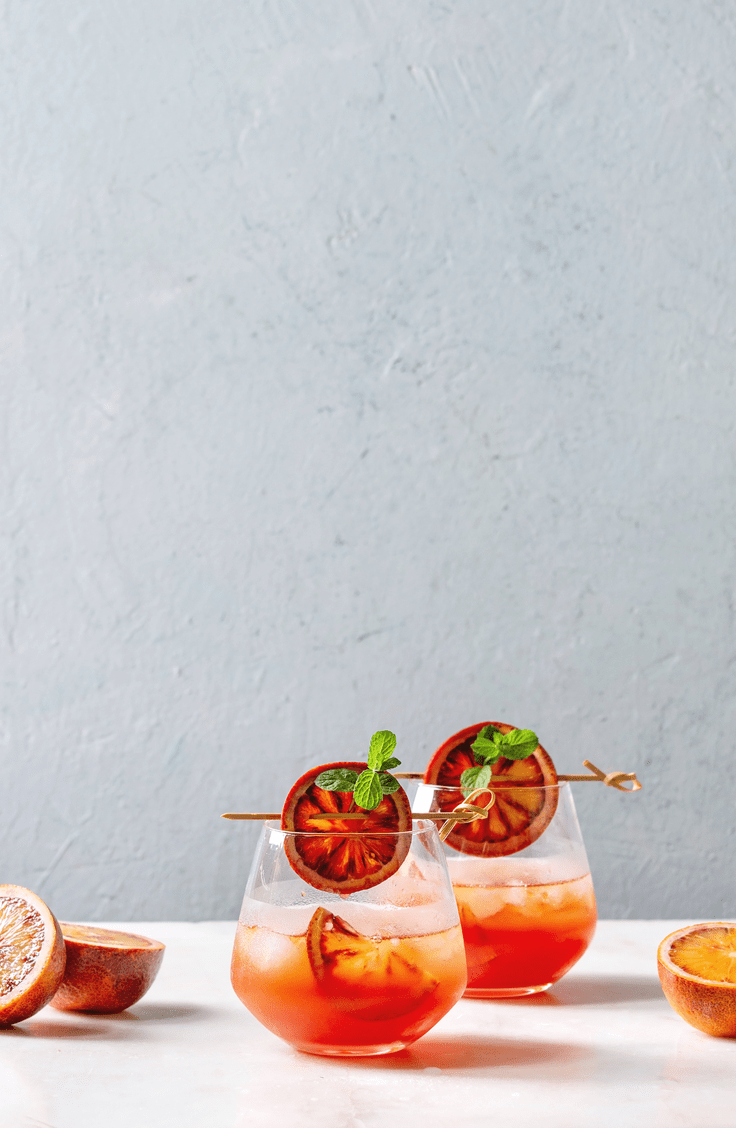 Check out more sparkling wine drinks here to celebrate or some cocktails for your at-home happy hour.