As the seasons are starting to change from summer to fall it is is time to pull out all your warm sweaters, but it is also time to dust off all your baking supplies, preheat your oven and make these tasty, and healthy muffins! Apple season is arguably the best fruit season of the year. Apples come in many different varieties; it is hard to pick your favourite. These apple and carrot muffins can be made with any of your favourite apples and can also be made into gluten-free by substituting the flour with gluten-free flour. 
These muffins have the perfect combination of the fall spice cinnamon and the sweetness from the apples, carrots and maple syrup. The apple and carrot muffins are going to be a new staple around here, and they can be prepped and made in less than 30 minutes! Make a batch for yourself, your friends and your family! 
Print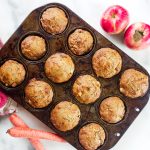 Fall In Love With These Apple And Carrot Muffins
---
1 3/4 cups of flour
1 1/2 teaspoons baking powder
1/2 teaspoon baking soda
1/2 teaspoon salt
1 tablespoon cinnamon
1 grated apple
3 grated carrots
1 medium apple diced
1/3 cup olive oil
1/2 cup maple syrup
2 eggs at room temperature
1/2 cup plain greek yogurt
1 tsp vanilla extract
---
Instructions
Preheat oven to 425 degrees Fahrenheit. If necessary, grease all 12 cups on your muffin tin with a non-stick cooking spray
Prepare your grated apple and carrots and dice the medium apple and set aside
In a large mixing bowl, combine the flour, baking powder, cinnamon, baking soda and salt. Stir and add the grated and diced apple and grated carrots. Stir to combine
In a medium mixing bowl, combine the oil and maple syrup and beat together with a whisk. Add the eggs and beat well, then add the yogurt and vanilla and mix well.
Pour the wet ingredients into the dry and mix with a big spoon, just until combined (the batter will be thick)
Divide the batter evenly between the 12 muffin cups.
Bake for 13 to 16 minutes or until the tops are golden and a toothpick inserted comes out clean.
Remove muffins from tin and place on a cooling rack! Enjoy!