Do you want a filling breakfast, but are always crunched for time in the mornings? Want to eat oats but you don't want something hot? Just want to eat something delicious?
You need to make overnight oats.
If you've never heard of overnight oats, the process is simple and the taste/texture is great! Instead of cooking your oatmeal, overnight oats are left in the fridge to soak for a period of time (usually overnight). The result is a pudding-like porridge that you eat cold (or hot, if you really want!).
Prep these babies at night or even a few days before and you'll be all set in the morning. Whether you wolf them down at work (maybe try mindful eating?) or enjoy them on a lazy Sunday – they're equally delicious and convenient.

As the name suggests, this is pretty much as simple as you can get for overnight oats. This is your starting place. From here you can add fruit (fresh, frozen or dried) for sweetness and nuts or seeds for crunch. Have some time on your hands to get a little fancier? Layer this with fresh fruit and yogurt in the morning for an overnight oat parfait!
2. Vanilla Hemp Blueberry Overnight Oats
Creamy and delicious. If you're not a fan of blueberries, you can easily sub a fruit or berry that you prefer. Bonus: you get a probiotic boost from the yogurt!
Ingredients
½ cup rolled oats

⅓ cup preferred milk

½ cup vanilla yogurt (plant based or dairy)

1 tbsp hemp seeds

1 tbsp chia seeds

⅓ cup of blueberries
Instructions
Mix all ingredients except blueberries and store in an airtight container.

Store in the fridge overnight.

Add blueberries on top in the morning.
**If using frozen blueberries, you can mix them into the oats and let them sit overnight as well, but you'll end up with pretty purple/blue oats in the morning.
3. Apple Cinnamon Overnight Oats
Who doesn't want the comfort of an apple pie for breakfast? If you have a little extra time, cooked cinnamon apples make a great addition to the top of these oats. Simply pan fry some diced apples (a firmer variety, like granny smith) with a touch of water and a pinch of cinnamon until they become tender.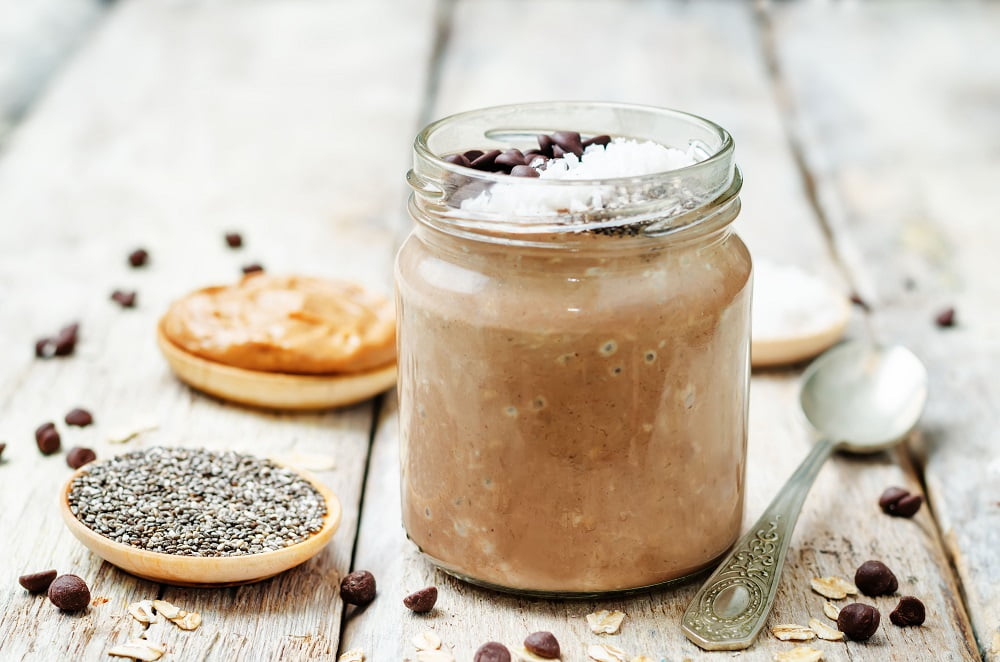 Basically a mom approved way of having chocolate pudding for breakfast. But unlike chocolate pudding, this filling breakfast will keep you from crashing an hour later. Lots of fiber and healthy fats keep you full and focused.
5. PB + Banana Overnight Oats
Classic toast toppings turned into overnight oats!  
Ingredients
½ cup rolled oats

⅓ cup prefered milk

1 ripe banana (½ mashed, ½ sliced)

2 tsp peanut butter (+ more for topping)

½ tsp vanilla extract

Sweetener (optional)
Instructions
Before peeling your banana, cut it in half. Cover and reserve one half for slicing in the morning, and mash the other half to go into your oats.

Mix all ingredients except the reserved banana in an airtight container. Keep in the fridge overnight.

In the morning, slice the other half banana and top the oats. Add an extra drizzle of PB!
The options for customizing overnight oats are endless! Add and adjust to suit your taste. Let us know what your favorite flavour of overnight oats is.
Feeling real hungry in the mornings? Why make some breakfast cookies to go with your overnight oats.