How you can fight food waste at home: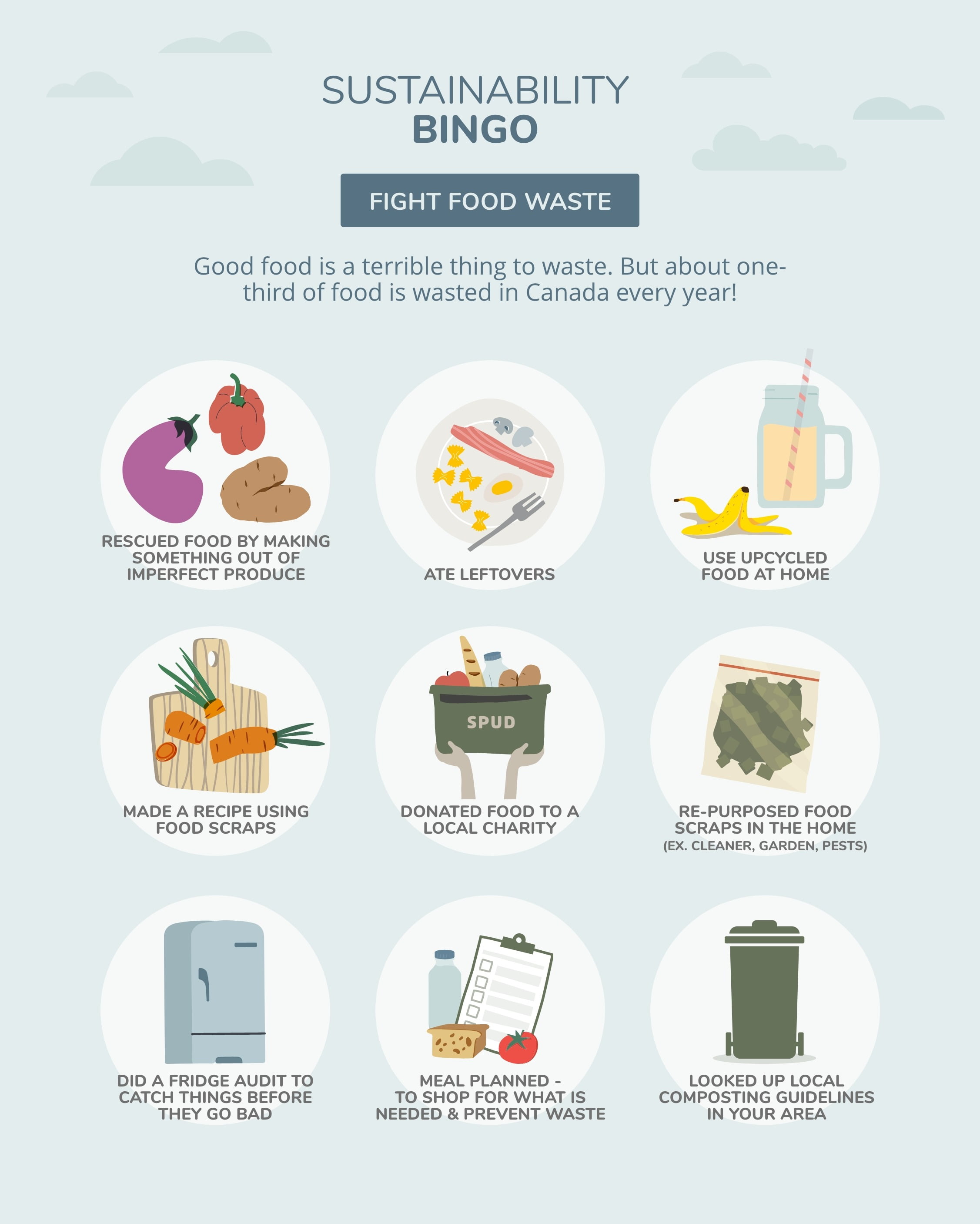 Use imperfect produce: Although it may not look perfect, it's still perfectly delicious! Order imperfect produce through Spud and check out these recipes for rescued apple pie and rescued banana smoothies.
Eat Leftovers: Meal plan to re-use or freeze leftovers to reduce food waste. Instead of prepping full meals, try prepping individual ingredients that can be used multiple ways!
Upcycle Food – Turn a mushy banana into a muffin or some wilty herbs into pesto! Try these scrappy cooking recipes
Use Food Scraps – You can use your food scraps to make entirely new recipes!
Donate Food to a Charity – Check out FoodStashFoundation, Food Runners and many more!
Re-purpose Food Around the House – You can use food scraps in your garden, to reduce pests or even to make a cleaner!
Do a Fridge Audit – Take a poll of what needs to be eaten first, catch items before their best-before dates
Meal Plan – Prevent waste before it happens, make a meal plan, and shop accordingly to reduce waste!
Look up composting guidelines – Whatever food does go in the compost, ensure it is done correctly. Check out guidelines for Vancouver, Victoria, Edmonton, and Calgary
To guide our sustainability strategy, we focus on five areas that we believe will have the largest impact on creating a better future for the next generation. We hope that you will join us on our journey and be part of the solution.
We are committed to having the lowest food waste in Canada! From selling imperfect produce to donating to local charities, we do our best to make sure your food dollars fight food waste.
Imperfect Produce: We purchase and sell produce that may look less perfect than most, and would otherwise be tossed into the compost, but is still perfectly delicious! 
Online Model: Our technology allows us to see when customers add products to their cart. This allows us to buy only what we need. Additionally, being an online store means we have no extra produce for displays, and fewer hands on the food resulting in less waste. Since we have no shoppers, our warehouse is the optimal temperature for food not at all times.
Local Vendors –With our vendors located so close by we can order just a few days ahead of time ensuring we only order what we need! Because of this, we proudly turn over 80% of our inventory in less than 48 hours.
Food waste Community Partners – Any food that we are unable to sell to customers, we donate to local charity partners, ensuring as little goes to waste as possible.