How you can Prioritize Responsible Transportation: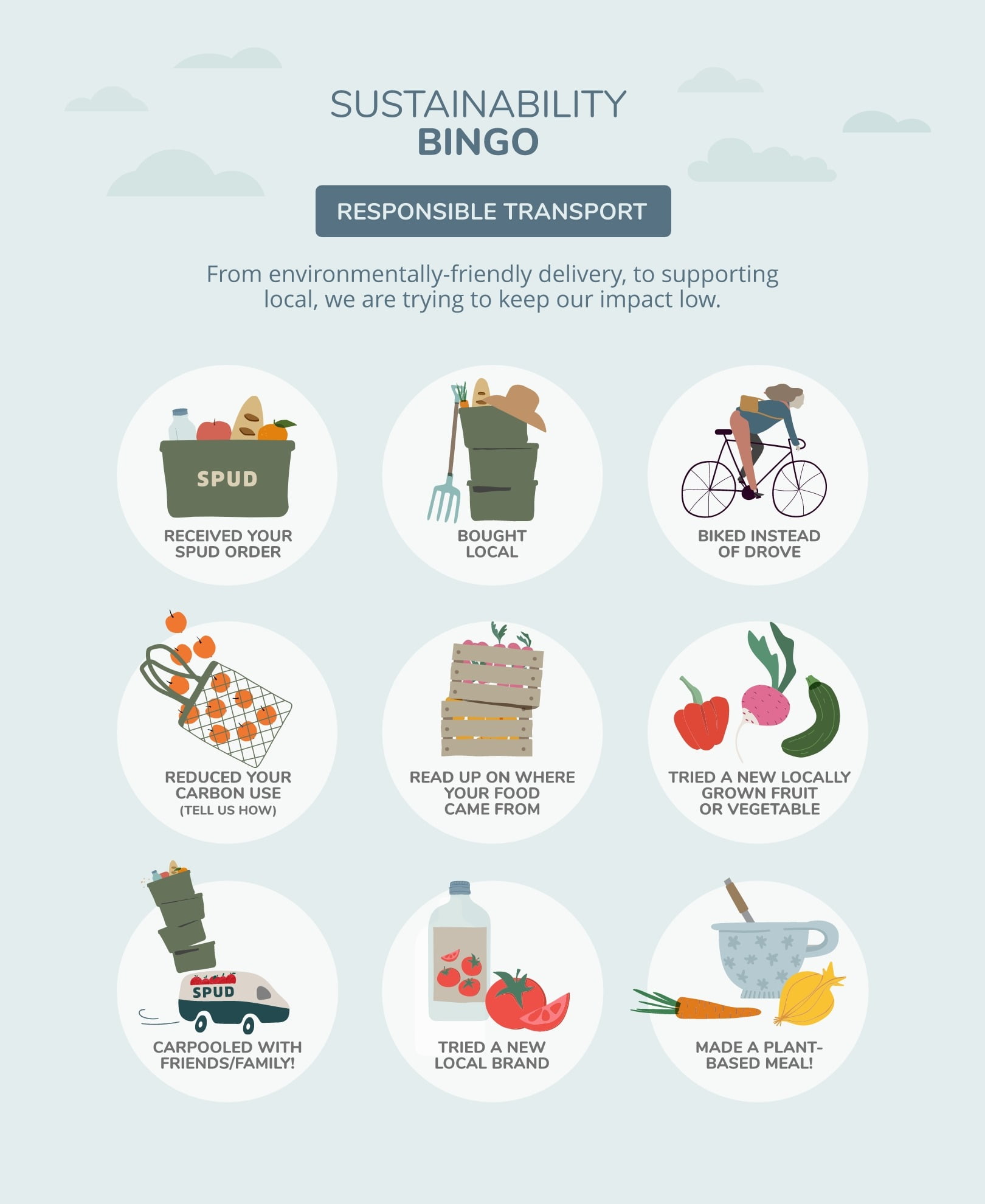 Ordered through Spud – It's that easy, we will carpool your groceries for you!
Try a new local product – Not only is this a great way to reduce your food mileage but also supports small businesses in your community! Try adding the 'Local' filter when shopping on Spud.
Bike instead of drive – Take advantage of the weather and take a car off the road by biking. Try using your local city bikes if you do not have a bike!
Try a new local fruit or vegetable – There are many benefits of eating locally, one of the main ones is it reduces the distance your food travels, reducing your carbon footprint. There are many unique vegetables that grow locally in Alberta and BC that you may not have tried before. Try Sea Asparagus, Morrel Mushrooms, Sunchokes, Kohlrabi, or Celeriac! 
Make a plant-based meal – Did you know it can take about 11x as many fossil fuels to produce animal proteins over grains? Further, methane production from animal proteins increases the trapping of CO2 emissions in the air. Try swapping a few plant-based meals as an easy way to reduce your footprint! Shop our plant-based pantry essentials or try these easy plant-based dinners! 
Look into where your food came from – Even just learning a little more about where your food comes from can help inform future food choices. On Spud, you can click 'About the Vendor' on each product page to learn more. You can also see the total distance your order traveled at the bottom of our order invoice.
Carpool with friends and family – Save on gas, and reduce your carbon footprint!
Have you completed any of these? Let us know by tagging us on Instagram @Spuddelivers
To guide our sustainability strategy, we focus on five areas that we believe will have the largest impact on creating a better future for the next generation. We hope that you will join us on our journey and be part of the solution.
Carpooling groceries – Did you know we carpool your groceries, planning out the most efficient routes to keep carbon emissions as low as possible? This reduces the distance your food travels even more. With research showing us that over half the carbon is prevented through sustainable grocery deliveries, we are proud to be keeping thousands of cars off the roads every day. 
Prioritizing Local Vendors – Closer proximity to our food simply means our food travels less. Less carbon, less damage, less waste.
Whether it's produce, meat, seafood, or snacks, our team is always seeking out local vendors so we can reduce the distance your food travels. You can find the average distance your current order traveled to reach our warehouse on your order invoice!