If you're looking for a post-dinner pick me up this is the cocktail!
We are excited to announce our newest collaboration with our friends at Confluence Distilling and Rosso Coffee Roasters; two of Calgary's favourite hotspots. Experience the smooth freshness of Confluence Headwater vodka married to splendiferously roasted Rosso coffee beans to create a perfectly balanced sip. Confluence craftily distilled Rosso's Tipping Point beans, pulling out notes of walnut, chocolate and a bit of local spirit to bring you a delicious espresso vodka, now available for delivery on Spud! 
The Power Up cocktail brings the espresso vodka to the next level in this delicious winter cocktail. Cheers to a little boost in your day! Brought to you by Reece Southern from Proof YYC Cocktail Bar.
Print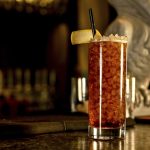 Power Up Cocktail
---
1.5

oz

Confluence Espresso Vodka
.5oz Cynar

1.5

oz

Rosso Cold Brew
.5oz Simple Syrup 2:1

2

Dash Orange Bitters

1

Large Pinch Salt
Garnish: Orange Twist
---
Instructions
How to make Rosso Cold Brew
Coarsely crush 1.5 cups of Rosso whole bean coffee (your fav will do) into 2 cups of water and steep for 24 hours in fridge.
How to make 2:1 simple syrup
Add 2 cups of white sugar and 1 cup of water into a pot. Heat until sugar dissolves. Refrigerate and allow to cool.
How to assemble cocktail
Fill your cocktail class with ice cubes so the glass keeps cold
In a shaker, add a heavy pinch of salt, orange bitters, simple syrup, Rosso cold brew, Cynar and finally, the Confluence espresso vodka
Add ice to the shaker and shake vigorously for about 7 seconds
Dump the ice out of your cocktail glass now that is cold, add shaved/crushed ice in place. Add the crushed ice to the top of the glass
Strain the contents from your shaker into the cocktail glass
Grab an orange rind and press the oils onto the top of the cocktail. Add the rest of the orange peel into the cocktail and enjoy!
Notes
Method: Shaken
Ice: Crushed / small cubes
Glassware: Collins / Tall Glass