Breakfast is the most important meal of the day and a lot of people's favourite meal. The options are limitless, but the best one, in my opinion, is a breakfast sandwich. I have yet to meet one person who does not love a good old' breakfast sandwich. This vegan breakfast sandwich is sweet and savoury and full of nutrients with the heartiness of some much-loved carbs.  

This vegan avocado and kale breakfast sandwich is all you need to get through your morning. All you need is 5 ingredients, and you are good to go. If you have a few extra minutes in the morning, you can also add this tasty vegan scramble to the sandwich. Yum! 
Print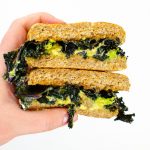 VEGAN BREAKFAST SANDWICH
---
---
Instructions
To assemble sandwich: Toast English muffin
Heat 1 teaspoon of olive oil in a medium saute pan
Sautee kale on medium heat until slightly crispy
Mash 1/2 of an avocado onto one side of your toasted English muffin
On the other side spread your desired amount of almond butter (We used NuIT almond butter for added nutritional value) 
Layer cooked kale between to halves of the English muffin
Enjoy!
What is your favourite breakfast meal? Let us know in the comments below!