What is a sunchoke?
This vegetable, also known as a Jerusalem Artichoke, is not truly an artichoke but a variety of sunflower with a lumpy, brown-skinned tuber that often resembles a ginger root. The white flesh of this vegetable is nutty, sweet, and crunchy. They have a variety of uses including soups, salads, pasta, and even blended into hummus! Check out the sunchoke recipes below!
When are sunchokes in season?
Sunchokes are harvested in British Columbia in late fall. They are available through the winter until early March. If you still have any sunchokes lying around, try out the recipes below!

Sunchoke Recipes
Print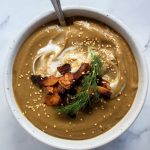 Sunchoke Soup
---
Total Time:

50 minutes

Yield:

2

1

x
Description
This creamy nutty sunchoke soup has a unique flavour! Topped with smokey coconut bacon, this warm and cozy soup is perfect for winter.
---
3 cups sunchokes, chopped
2 Tbsp olive oil
1 yellow onion
2 1/2 cups vegetable broth
1/2 cup white beans
salt and pepper to taste
Coconut Bacon:
1 cup coconut smiles
2 Tbsp soy sauce
1 Tbsp maple syrup
1 tsp smoked paprika
---
Instructions
Preheat oven to 375 F.
Wash and scrub your sunchokes with a kitchen brush. Carefully remove any 'eyes', the small bumps on the sunchoke with a knife. Chop the sunchokes into bite-size pieces, toss with olive oil, salt, and pepper and bake for about 30 minutes.
While the sunchokes are cooking, add chopped onion to a small pot and cook until translucent. Add in the sunchokes and vegetable broth and cook until the sunchokes are soft, about 10 minutes.
Add the sunchoke mixture to a blender with the white beans and blend until smooth.
To make the coconut bacon, mix all ingredients together and bake at 375 for 10-15 minutes. Be careful as these can burn easily. Let the coconut bacon cool and crisp up outside of the oven for 5-10 minutes.
Enjoy soup with coconut bacon, and chopped herbs of choice!
Prep Time:

10

Cook Time:

40
Print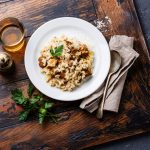 Sunchoke Risotto
---
Description
Add sunchokes to your favourite risotto recipe for a perfect creamy winter dish!
---
4–5 sunchokes, chopped
2 Tbsp olive oil
1 yellow onion (or 2 small shallots)
1 clove of garlic
1 cup of arborio rice
1/2 cup white wine
3 cups vegetable stock
2 Tbsp butter (or dairy-free butter)
1/2 cup parmesan cheese (or dairy-free parmesan cheese) + extra to serve
Fresh parsley (to serve)
Chopped toasted nuts (optional)
---
Instructions
Preheat oven to 375 F. Scrub sunchokes with a kitchen brush and chop into pieces and toss with 1 tbsp olive oil salt and pepper. Bake for 30 minutes until pierceable with a fork.
In a pot, heat the remaining olive oil and fry the chopped onion and garlic until fragrant. In a separate pot add vegetable broth and heat until warm (not boiling).
When onion and garlic is translucent, add in the rice and stir to coat it in the oil-y mixture. Deglaze the pan with the white wine and cook until all of the wine is absorbed.
Next, ladle in vegetable broth one scoop at a time. Cook off the vegetable stock until each ladle is absorbed one by one. YOu can check by gently stirring the risotto, when no more broth leaks through the sides, you can add another ladel.
When all the stock has been absorbed and the rice is cooked through, stir in the butter, (dairy-free butter or cashew cream) and parmesan cheese
Stir in the roasted sunchokes and serve with fresh herbs, extra parmesan, and toasted nuts (if using)
Notes
Sub rice – Try subbing farro instead of rice for a whole grain option with an untraditional nutty flavour!
Sub butter – Instead of butter, add in 2 tbsp of cashew cream (equal parts cashews blended with water)
Sub cheese – If you don't have parmesan cheese add in 2 Tbsp of nutritional yeast, and a bit of extra salt
Nuts – Chopped hazelnuts would be delicious
Looking for more sunchoke recipes? Try:
Sunchoke Hummus, Sunchoke Rosti, Smashed Sunchokes with Butter and Thyme, Creamy Vegan Sunchoke Pasta
FAQ
Can you eat sunchokes raw?
Yes, unlike potatoes sunchokes can be eaten raw! You can leave the skin on, grate them or slice them for a crispy salad topper!
What are the health benefits of sunchokes?
Sunchokes are high in iron, magnesium, calcium and potassium. They are also rich in fibre and inulin
How do you store sunchokes?
Sunchokes last for up to 2 weeks in the fridge.