The season of shorter days and longer nights is upon us, and with it comes an abundance of winter squash to enjoy. One squash that can add a bit of sunshine into your life is the underrated spaghetti squash.  Spaghetti squash is a great gluten-free and low carb alternative and is packed with nutrients and vitamins like fiber, vitamin C, manganese, calcium, and iron! 
Normally, spaghetti squash is used with Italian ingredients, like adding tomato sauce, olive oil or cheese. But try substituting rice noodles and egg noodles in Asian dishes with this squash like this spaghetti squash pad thai! 
Below is an easy Spaghetti Squash pad thai recipe you will fall in love with! 
Print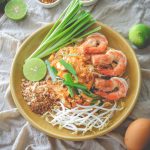 SPAGHETTI SQUASH PAD THAI
---
1 large spaghetti squash
Olive Oil
Salt and pepper
1/2 cup cubed tofu
Shrimp (optional )
3 carrots
1 red bell pepper
4 cloves of garlic minced
1-inch piece of ginger grated
Green Onions
2 eggs (optional)
3 heaping tablespoons garlic chili sauce
3 tablespoons soy sauce (tamari for gluten free)
Juice of 1 lime
4 tablespoons sesame oil
Bean sprouts
Crushed salted peanuts
1/2 bunch of cilantro chopped
---
Instructions
Preheat your oven and prepare your spaghetti squash. Follow how to cook the perfect spaghetti squash

instructions here! 

Meanwhile, dice the tofu into cubes and press as much liquid as you can out.

Use this technique.

Wash, peel, slice and dice the vegetables your desired way and set aside 

Mince your garlic, slice the green onions and set aside 

In another bowl, add garlic chili sauce, ginger, soy sauce, lime juice and 2 tablespoons of the sesame oil. Mix it together and set aside. 

Once the spaghetti squash is almost cooked, put a medium pan over medium heat and add 1 tablespoon of sesame oil. Add the tofu to the pan and crisp. Once the tofu is crispy remove from the pan and set aside. 

Add the remainder of the oil and the garlic and green onions and saute. Add shrimp to cook if using. 

If you are using eggs, crack the egg and add to the pan, scramble until almost cooked.

Add the vegetables except for the bean sprouts and cook for about 2 minutes. 

Add the squash and pour in the sauce mixture. Stir and combine 

Garnish with peanuts and cilantro and enjoy!