How to get the most out of your produce:
Vegetable scraps, leftover herbs, greens going off? No need to throw them out! Check out these creative food scrap recipes using leftover vegetables and peels.
Be a scrappy shopper! Shop our Imperfect Produce for your food scrap recipes!

Leftover Greens:
Print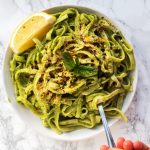 Wilted Greens Pesto
---
Author:

Total Time:

15 minutes

Yield:

1 Cup

1

x
Description
No need to throw out those wilting greens and herbs! Turn them into this delicious and nutritious pesto!
---
1 cup leftover greens (Spinach, Kale, Arugula all work well)
1 cup leftover fresh herbs or more greens (Basil, Cilantro, Mint work well)
1/3 cup nuts or seeds*
1–2 cloves of garlic
2 Tbsp nutritional yeast, or parmesan cheese
Juice of 1/2 a lemon
1/3 cup extra virgin olive oil
---
Instructions
To a blender or food processor, add greens/herbs, nuts, nutritional yeast/parmesan and garlic. Pulse the mixture until a crumble is formed.
Drizzle in the lemon juice and olive oil and blend until smooth.
Notes
Sunflower seeds, pumpkin seeds, walnuts, almonds, cashews all work well. Use what is most accessible to you!
Keywords: pesto, imperfect produce
Leftover Herbs:
Preserve your herbs in oil in the freezer and use to flavourfully start your favourite dishes! Try:
Rosemary Oil – Roast with Potatoes
Basil, Thyme, Oregano, Parsley – Use for homemade pasta sauce
Chives + Parsley – Frying Omelettes
Sage, Thyme, rosemary – Roasting chicken or chickpeas
Parsley, Thyme – Base of chicken noodle soup
Print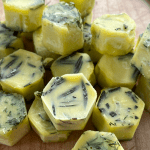 Leftover Herb Oil
---
Author:

Total Time:

10 minutes
Description
Save those leftover herbs from going bad! Turn them into frozen herb oil cubes.
---
Leftover herbs: Rosemary, Sage, Oregano, Thyme, Basil or Parsley
Olive Oil
---
Instructions
Chop herbs finely and place in ice cube tray. Cover each section with olive oil, and freeze overnight.
To use, pop out one cube and defrost in pot, frying pan or microwave.
Vegetable Scraps:
Don't throw out your veggie scraps! Use them to make a delicious zero-waste and low cost vegetable stock! Try it in these delicious soup recipes!
Print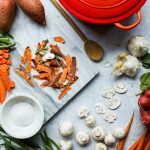 Vegetable Scrap Stock
---
Description
Save your vegetable scraps and turn them into this low waste, low cost vegetable scrap stock!
---
Carrot scraps
Celery Scraps
Onion Scraps
Garlic Scraps
Optional: Mushroom stems, kale or collard stems, leek scraps, parsley scraps
Add: 1-2 bay leaves, 1-2 Cloves fresh garlic
Optional for extra flavour: Fresh thyme, fresh parsley, 1 Tbsp nutritional yeast, 1 Tbsp tomato paste or a fresh tomato, Fresh turmeric
---
Instructions
Save your vegetable scraps throughout the week in a large freezer bag or container. The bag should be majority carrot, celery and onion for the best flavour, however feel free to add in any other additional scraps you have to fill it up.
Add scraps to a large pot with bay leaves, garlic and whatever extra ingredients you are using, with 10-12 cups of water.
Simmer for 1 hour, let cool and strain into jars or containers. Compost the scraps, and store vegetable broth in the fridge or freezer.
Notes
Avoid adding starchy vegetables such as potatoes or sweet potatoes, and vegetables that wilt easily