Let me start off by saying the human race loves bread. It's a staple food in so many parts of the world. It's also one of the oldest prepared foods in the world with traces of its origin dating back more than 30000 years ago. So why does this ancient food always end up as a side at the dinner table now?
It doesn't have to be. If you're a bread lover like me, there's a surefire way to make bread the centerpiece, something everyone in the family will love. You already know how to make delicious homemade wheat bread. It's time to upgrade it and turn it into garlic, cheesy, pull-apart bread. Take a second and imagine a fresh loaf of bread stuffed with creamy mozzarella cheese, minced garlic, smeared with butter, and loaded with herbs. Drool.
Print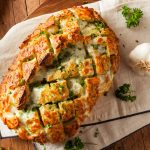 Cheesy Pull-Apart Bread
---
What you need:
1 loaf of bread
1 cup of mozzarella cheese shredded or cut into sizable pieces
1/4 cup of unsalted butter softened
2 tbsp of olive oil
4 cloves of garlic minced
1/4 cup of parsley finely chopped
Pinch of salt
---
Instructions
1. Preheat oven to 350°F.
2. In a bowl, combine the garlic and butter to melt. Remove from heat then stir in the parsley.
3. Take the loaf of bread, starting on one end, make a diagonal cut—but not all the way through the bread—and continue until you've made cuts across the entire bread, leaving about 1 inch of space between each cut. Now do the same by making diagonal cuts in the opposite direction. Your bread should end up with diamond squares all the way across.
4. Stuff the sliced mozzarella into all the crevices of the bread
5. Using a spoon, scoop the parsley garlic butter mixture into the crevices of the bread.
6. With a brush, generously brush the olive oil over the bread, allowing some to seep into the cuts.
7. Sprinkle a pinch of salt over the bread before wrapping it in foil and popping it in the oven.
8. Bake the bread for about 10 minutes, then remove the foil and allow it to bake for an additional 5-10 minutes until the bread is brown and crusty.
9. Serve hot!
This parsley garlic cheesy pull-apart bread will the favourite at dinner parties. It smells amazing, tastes delicious, and looks amaaazing. Have you tried making this pull-apart bread? What are some ingredients we should try adding next time? Let us know!