Did you really think that we would forget about Star Wars Day?
Definitely not. In fact, we thought that May the 4th actually presented a perfect opportunity for a new baking DIY—Princess Leia Cakes.
But before we get into the recipe, you should know that when it comes to Star Wars themed baking, there is no shortage of options. When scrolling through Pinterest for inspiration, I saw everything from Death Star shortbread, to storm trooper cake pops, to Chewbacca popcorn balls. Bombarded by so many great ideas, it was genuinely tough to choose which one to try. But when I stumbled onto this design for Princess Leia cupcakes, I knew the decision had been made.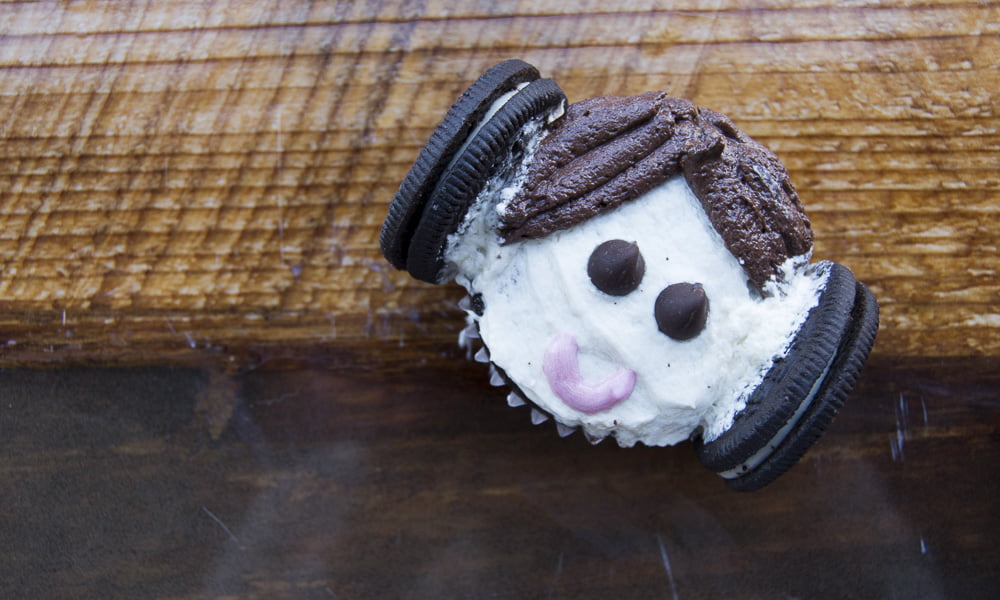 Because we have a few vegans here at the Spud office, I made these vegan, which was actually very easy. The photos are fairly self-explanatory, but these Leia cakes consist of a chocolate cupcake base and vegan white frosting. Once you cover each cake with a layer of white frosting, you use the remainder of the icing to create a batch of brown frosting to use for the hair and eyes, and pink frosting to use for the mouth. Once everything is iced up, Leia's iconic buns (sandwich cookies) are cemented to the sides of the cupcakes using whatever icing is left over.
The fun part of these cupcakes is definitely in the assemblage, so get some friends together, throw on The Empire Strikes Back, and indulge yourself in both fandom, and some seriously delicious vegan baking.
May the 4th be with you, and whichever Stars Wars baking route you decide to embark on today.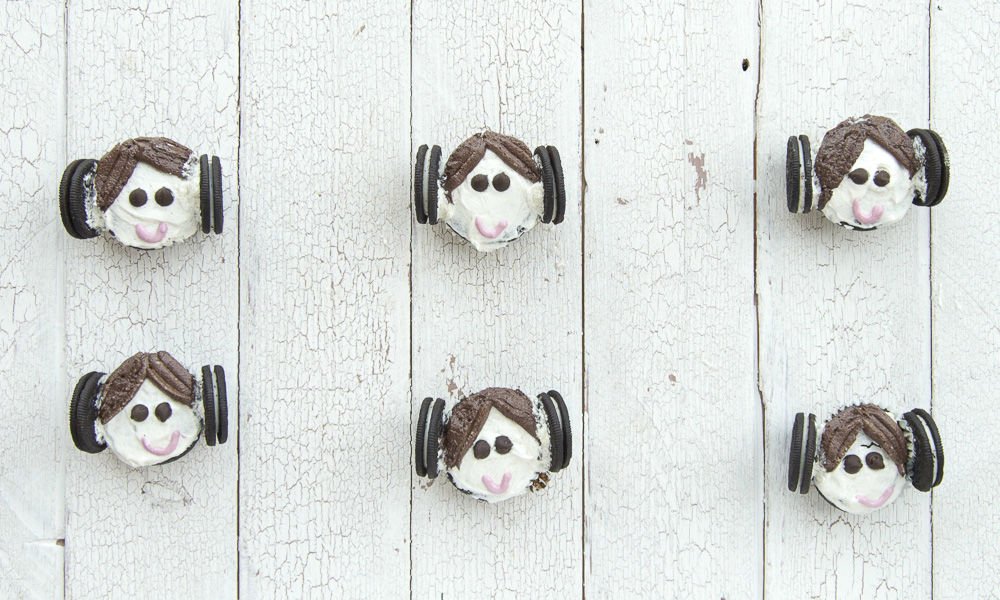 Ingredients:
1 cup plain unsweetened soy milk

1 teaspoon apple cider vinegar

3/4 cup granulated sugar

1/3 cup canola oil

1 teaspoon pure vanilla extract

1 cup all-purpose flour

1/3 cup Dutch process cocoa powder

3/4 teaspoon baking soda

1/2 teaspoon baking powder

1/4 teaspoon fine sea salt

1 box chocolate sandwich cookies
For the vegan frosting:
1 cup Earth balance or other vegan butter

3 ½ cups powdered sugar

1 ½ teaspoons vanilla extract

¼ cup plain soy milk
To make the cupcakes:
Heat oven to 350F and line a muffin tray with cupcake liners.

In a large bowl, use a whisk to combine the soy milk and vinegar. Set aside for at least 5 minutes to allow the milk to curdle. Then add the sugar, oil, and vanilla extract until the mixture is foamy.

In a separate bowl, combine the flour, cocoa powder, baking soda, baking powder, and salt.

Add dry ingredients to wet ingredients, and beat until smooth.

Bake 18-20 minutes, then transfer to a cooling rack and let cool completely.
To make the vegan frosting:
Combine vegan butter and sugar until well combined and fluffy.

Add vanilla and soy milk, and beat on high for 5-7 minutes.
To assemble:
Once cupcakes have cooled completely, spread a layer of plain, white frosting on the surface of each cupcake.

Scoop two tablespoons (or enough to use for the pink mouth on each cupcake) out of the bowl and into a separate bowl. These two tablespoons will become pink icing for the mouth on each cupcake, and the rest of the icing will be turned brown to ice the hair and eyes on the cupcakes.

For the brown icing, add cocoa powder until you've reached your desired hair/eye colour. Then transfer this icing to a cake piping tool (or use a small plastic bag with a small cut in the bottom corner). Pipe the icing onto the cupcakes to create a 'hair line'. Start at the top center of the cake, and create Leia's middle part for curtaining the brown icing across. Then create two dot eyes.

To make your icing pink, cut a few slices of fresh beet and stir the pieces into the reserved icing. Continue adding beet until you have your desired hue. Then transfer this icing into another piping bag, and ice a smile onto each cupcake.

To attach the hair buns, use a dab of icing to cement a sandwich cookie to both sides of each cupcake.

Enjoy!