Introducing the next thing to take over your Instagram feed: mermaid toast. If how your food looks is (almost) as important to you as how it tastes, this is the trend for you.  At its most basic, it's toast with green/blue tinted spread, but we've upped the mermaid toast game with this version (which was warmly received by Spud staff – mermaid or not). Our verison is still beautiful and Instagram-ready, but packs a bigger nutrient AND flavour punch. Win win win.
Disclaimer: I am not a professional toast stylist, nor am I a professional mermaid.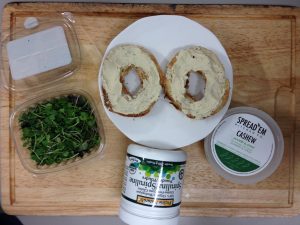 We started with a bagel – which seems somehow more exciting than regular toast – and toasted it. Then we spread a thick layer of jalapeno lemon Spread'Em cream-cheese style cashew spread. If you can't get Spread'Em, you could use any type of cream cheese style spread. Or…cream cheese. Here at Spud HQ, Spread'Em is definitely one of our top staff purchases, so we'll take any excuse to consume more of it.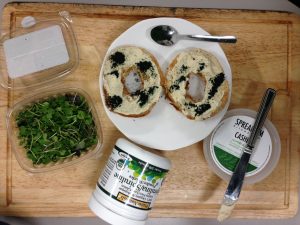 Next I tapped a little spirulina powder on top of the Spread'Em. Spirulina is a blue-green algae, widely renowned for it's 'superfood' status. Whether or not it lives up to that hype, it gives the mermaid toast it's signature greenish swirl look. Any superfood properties are purely bonus in this situation.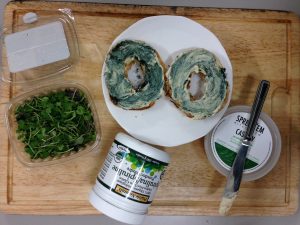 Swirl the spirulina and Spread'Em around to get this wavey, marbled look. Now you could Instagram that and call it a day. But would this really satisfy a mermaid? If you're going to swimming around all day, you're going to need more nourishment. Time to pile on the toppings.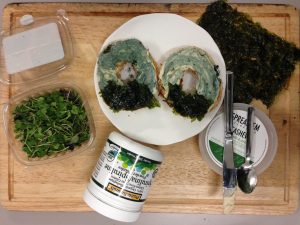 We started with seaweed – I just tore up a big sheet into little flakes and stuck them on over roughly 1/3 of the bagel.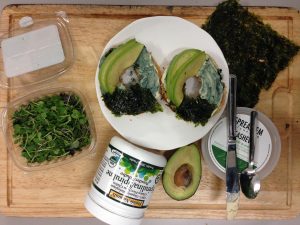 Then we added some sliced avocado…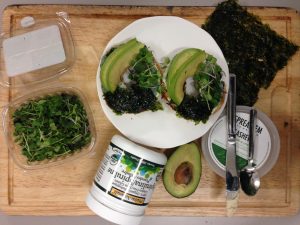 …and some microgreens…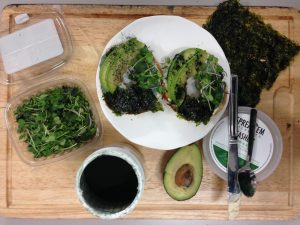 …and dusted the whole thing a little m0re spirulina for good measure.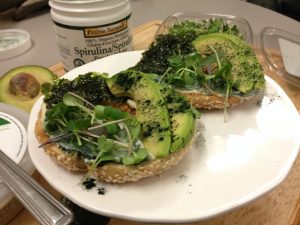 And that's it! All the blue-green beauty of mermaid toast, but more filling and waaaay more delicious.