You may have noticed that we launched many new Be Fresh products recently. Yep, the ones with the pink bags (Cute, hey?! We also take them back for proper recycling – winning!). These products include many popular staples like popcorn, oats, frozen berries, coconut oil, and nuts and seeds. Another exciting product we've included are transitional almonds.
What Are Transitional Almonds?
To understand what transitional almonds are, we first have to talk a bit about farms. Put simply, there are two main types of farms: conventional and organic. Many farms start out as conventional, but because of the increased demand for organic foods, many want to transition to organic. This is a lengthy and challenging process that takes about 3 years. The crops grown during this 3 year period are known as "transitional crops".
Not Conventional, But Not Yet Organic
Our transitional almonds are one of these crops. They're not conventional, but they're not yet organic. Despite the lack of organic certification, farms undergo many organic quality control measures during this transition period. For example, Quality Assurance International (QAI), a USDA-accredited organic certification body, ensures transitional crops are grown with sustainable processes, without genetically modified seeds, and no conventional synthetic pesticides. After 3 years of this monitoring process, then farms can apply for organic certification.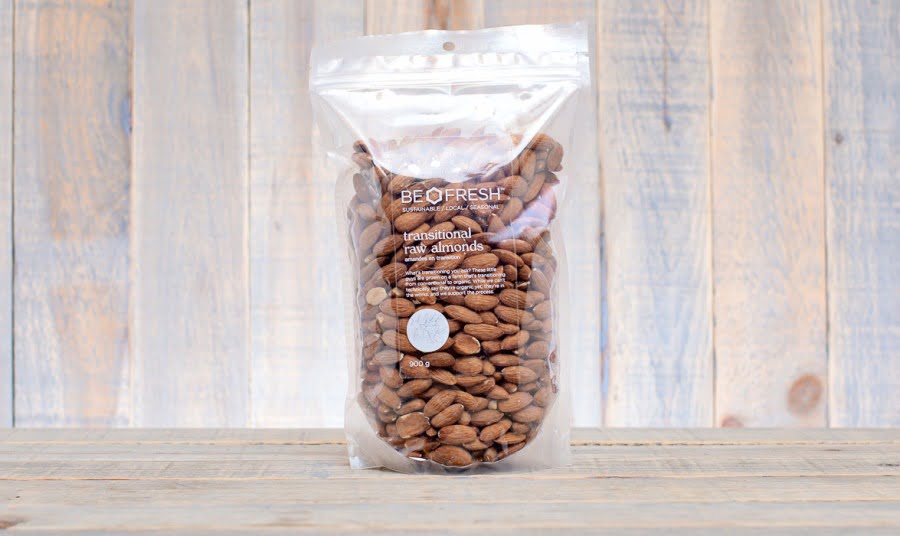 Why We Support Transitional Farming
Farmers still have to pay the bills, and becoming a certified organic farm can be daunting, unsettling, and not to mention, expensive. Supporting transitional farming reduces farmers' financial insecurity and encourages the spread of organic farmland. The way we see it, any farm that's transitioning to organic is one we want to support!
So there you have it. Transitional almonds are basically just organic almonds-to-be. While almonds are the only transitional crop we have right now, we hope to carry more in the future.
Want to learn more about organic farming?
As you may know, there are many benefits to organic farming, including the mitigation of greenhouse gases and increased biodiversity. Want to learn more? Check out this blog on why we support certified organic.