You know that feeling when you take off your ski boots? That exhilarating cue to relax and unwind? I mean, after a long day on the slopes, swerving around people, striking up conversations on the chairlift, and just standing in line to get on the gondola, you really do deserve it. Your body needs it. Your body needs these apres-ski recipes to warm up. 
A ski trip is a perfect time to splurge and go all out, but maybe you're looking to head back to the cabin and whip up the perfect cozy meal with your family or friends. What should you make? We've got some fantastic recipes for ya.
Apres-ski foods you need to eat this winter.
1. Pumpkin Eggnog Bread Pudding
I mean, the name alone speaks for itself. This is quite possibly your ultimate apres-ski dish. It's comforting, warm, delicious, and so very in-season.
Try the perfect holiday bread pudding.
2. Guinness Beef Stew
The idea of not having a beer with your apres-ski is basically sacrilege. But did you know that cooking with beer is just as good as having a pint on its own? There's no better dish than a beef stew to try it.
Pour some Guinness in your stew.
3. Apple Cinnamon Buns
Apple and cinnamon go hand-in-hand like no other. And we all know apple cinnamon buns are winter essentials. And I know you can taste the sweet, spicy cinnamon and warm apples melting in your mouth as we speak.
Every needs some delicious, juicy buns.
4. Garlic Yam Wedge Fries
What's a healthy comfort food, you ask? Yam fries! Your craving for fries will be amplified the moment you knock off those ski boots. Opt for the yam fries on the side along with your other greasy, delicious goodies.
5. Hot Chocolate
Hot chocolate is a no-brainer. If you don't like a warm mug of hot chocolate by the fireside with a snowy view, you're insane. It's the perfect non-alcoholic beverage to precede your evening shenanigans.
This vegan hot chocolate is better than the original.
6. Mulled Wine and Cider
Speaking of alcoholic beverages… mulled wine and cider, anyone? Mulled beverages are prevalent throughout Europe, but as long as you have the right mulling spices, it's actually super easy to make.
Brew your own mulled beverage!

7. Mac and Cheese Grilled Cheese
Grilled cheese is delicious, but it could probably use an upgrade. Easy solution, stuff it with mac and cheese, and you've really got something extraordinary.
The only apres-ski sandwich you need.
8. Holiday Cranberry Scones
This is the season where your fridge is overloaded with unused cranberry sauce. Don't fret. Turn them into delicious cranberry scones! Churn up some to-die-for clotted cream to go with it.
Warm cranberry scones for every meal.
9. Bourbon-Spiked Pumpkin Risotto with Prosciutto and Goat Cheese
You want to make sure your carbs are also apres-ski-proof. Forget the boring plain rice, and turn it into risotto with some pumpkin, bourbon, prosciutto, and goat cheese. How good does that sound?
Bourbon on the rocks and in your risotto.
10. Irish Baked Potatoes
A fully loaded baked potato is everything. I'm talking about cheese, bacon, sour cream, green onions, paprika–the whole nine yards. If there's going to be a side that steals the show, it's this one.
Load your spuds the right way.
11. Classic French Onion Soup
Don't forget the soup. A piping hot, cheesy soup loaded with onion complements just about anything. And it'll probably keep you warm 'til the next day. Maybe one for the morning, too? Is avant-ski a thing?
Stay warm with French onion soup.
12. Cheesy, Herby, Garlicky Pull-Apart Bread
Speaking of things that complement well with soups, how about a cheesy, herby, garlicky pull-apart bread? It's a great "side" centrepiece that will keep everyone at the table reaching for more.
Pull the family together with this pull-apart bread.
13. Roast Turkey Pho
It's the season of turkeys! Whether you're roasting a whole turkey or buying ready meals at the market, chances are there might be leftovers. Turkey does fill you up quickly! Make the ultimate pho noodle soup with your turkey.
Give pho a traditional holiday spin.
Hungry?! So am I. That's probably because a good apres-ski meal is pretty much mandatory after any winter activity. Whether you're skiing, snowboarding, snowshoeing, tobogganing down the hill, or–honestly–even just staring at the snow, make sure you have one of these recipes ready to warm you up.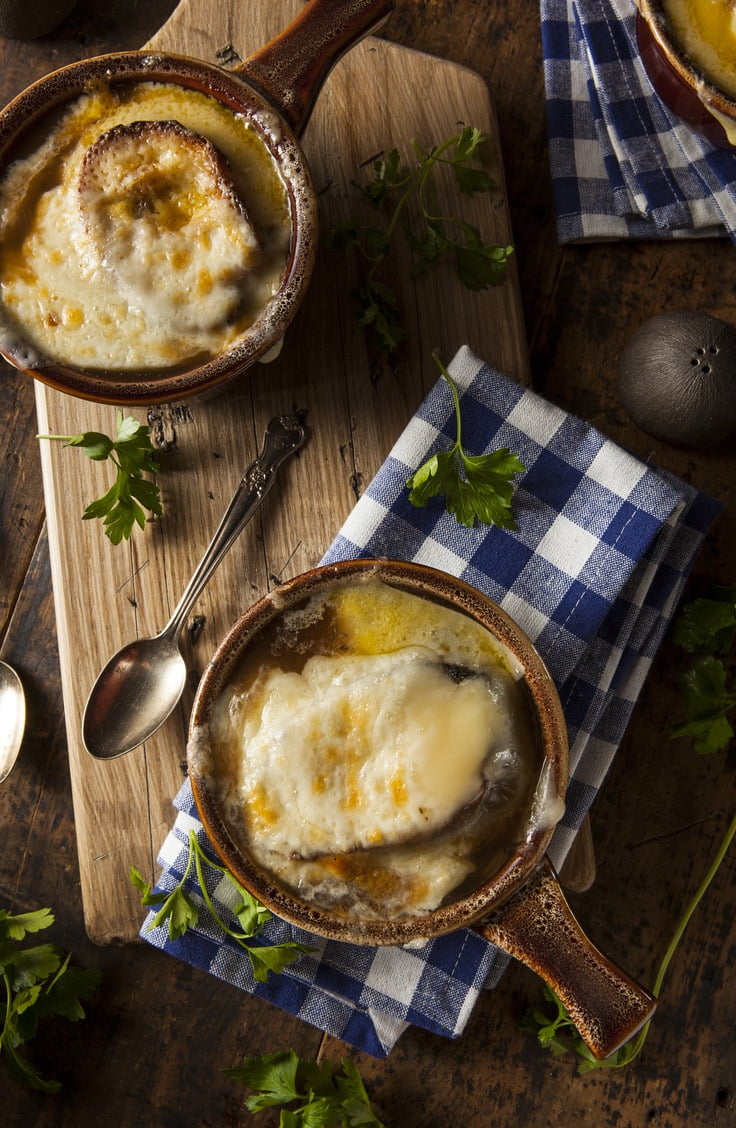 What's your favourite apres-ski food? Share with us your best recipes!