Pumpkin Recipes
As Autumn finally arrives, flip-flops get traded in for fuzzy socks and boots, the swimsuit goes back in the drawer, and the scarves begin to make appearances–changes we have become accustomed to. Yet, among these rituals, there is another custom that fall brings with it. As people walk through the streets of Canada, hands clasped around their coffee cups, there is an irrepressible smugness on their face that says: I've got a pumpkin-spiced-latte. The frenzy has begun.
I will admit that I have enjoyed a PSL on occasion, however, in most cases, I find the drink to be way too sweet, not to mention that most PSL lattes do not even contain any real pumpkin! Alas, my issue with the PSL is that it seems to hog all of the pumpkin attention while there are so many different, amazing pumpkin recipes out there are perfect for fall, and too often overlooked.
So behold, pumpkin; the fibrous powerhouse that is rich in antioxidants and vitamins. Feast your eyes on these pumpkin recipes that will have you saying 'pumpkin-spice what?'!
Try These Pumpkin Recipes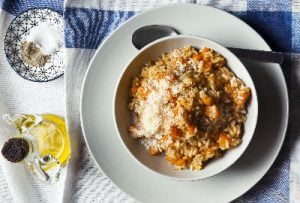 Yep, you read that right! A pumpkin risotto infused with bourbon, and garnished with goat cheese and prosciutto. Methinks some pre-dinner beverages may be in order to use up the extra bourbon?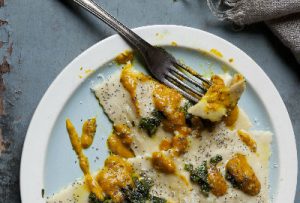 If you've never indulged in the heavenly goodness of brown butter sauce, this is your chance. Infused with the spices of fall, this creamy, sweet, and heart-warming ravioli dish is worth hand-crafting yourself.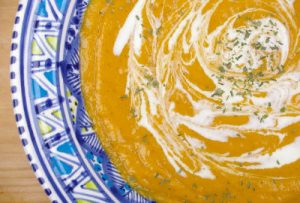 This is a very versatile recipe. You can use any type of winter squash instead of pumpkin and any type of seasoning instead of berbere! However, if you like flavours that are sultry, spicy, and a little sweet, then you really ought to give this Ethiopian-inspired version a try.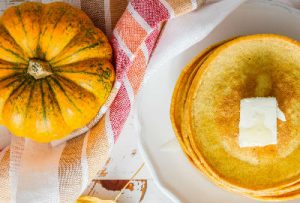 Quick, healthy, and sporting a whopping 20g of protein, these Pumpkin Spiced Greek Yogurt Pancakes make an easy and delicious fall-inspired breakfast that'll keep you satisfied all morning.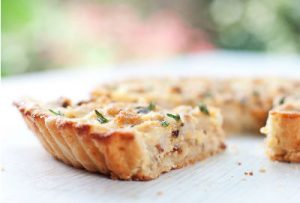 The perfect addition to any Autumnal brunch you have coming up. Beautiful flavours blend perfectly together in this quiche.
If you still feel completely devoted to pumpkin spice, try making your own! Most recipes are blends of sweet-smelling spices, like cinnamon, nutmeg, clove, and ginger. Try adding it to coffee, making some sweet spiced nuts for salads, baked goods, popcorn seasoning, or sprinkled over roasted veggies!
And if you are really set on the PSL lifestyle, did you know that you can make your own (with real pumpkin!) in your slow cooker? Happy fall everybody!