Black beans are the perfect protein as they are inexpensive and full of fibre. Here are 5 black bean recipes that we can't get enough of. 
Roasted black beans: 
Roasted beans are so versatile. Add them as a garnish to a bowl of soup for some added crunch, toss them in a salad for an alternative protein or just snack on them while watching your favourite movie. 
Rinse and drain black beans, then pat dry. Toss on a parchment-lined baking sheet with olive oil, chili powder, garlic powder, kosher salt, and freshly ground black pepper. Roast in a 400° oven until dry and crisp, turning once halfway through, about 30 minutes.
The perfect meatless meal made with kitchen essentials. Serve it with your favourite slaw, homemade or store bought salsa and some fresh avocado. 
Black Bean Soup 
With the seasons changing, there are some nights that are cold and others that have some hope that summer is almost here. A quick pantry staple meal garnished with some fresh produce makes this black bean soup recipe perfect for any season. 
Print
5 BLACK BEAN RECIPES WE CAN'T GET ENOUGH OF
---
2 red onions Chopped
2 cloves of garlic minced
1 fresh jalapeno, seeds removed finely chopped
2 stalks of celery roughly chopped
Olive Oil
1 teaspoon cumin
1 15 oz can of black beans
1 avocado
1 lime
Suggested Garnishes:
Pickled Red Onion
Cilantro
Feta Cheese
---
Instructions
Peel your onions and garlic, then finely chop with the celery and jalapeno, save some jalapeno for the garnish if you like it spicy. Place in a large pan on  medium heat with about 1 tablespoon of olive oil. Add the chopped vegetables and cook till they are translucent, stirring occasionally to prevent sticking. Add the black beans, including the juices and one can worth of water. Simmer for 15 minutes, until thicken and reduced. Once cooked and simmered, blend using a blender or an immersion blender and season with salt and pepper. Dish up the soup and squeeze over lime juice and garnish with your desired toppings. Serve with tortilla chips on the side! 
Somedays, all you need is a big juicy vegetarian burger. What better way to enjoy it than with black beans. Full of protein and nutritional goodness, and inexpensive! 
Try this sweet potato black bean burger from the Minimalist baker, and you will be eating these all year round. 
Black Bean Dip 
Everyone loves a good dip! 
Blend rinsed and drained black beans with fresh lime juice, a couple of chipotle chiles packed in adobo sauce, fresh cilantro, garlic, onion, paprika, and Greek yogurt (can also be substituted with vegan yogurt); drizzle with hot sause, crumbled feta and chopped cilantro. Serve with tortilla chips.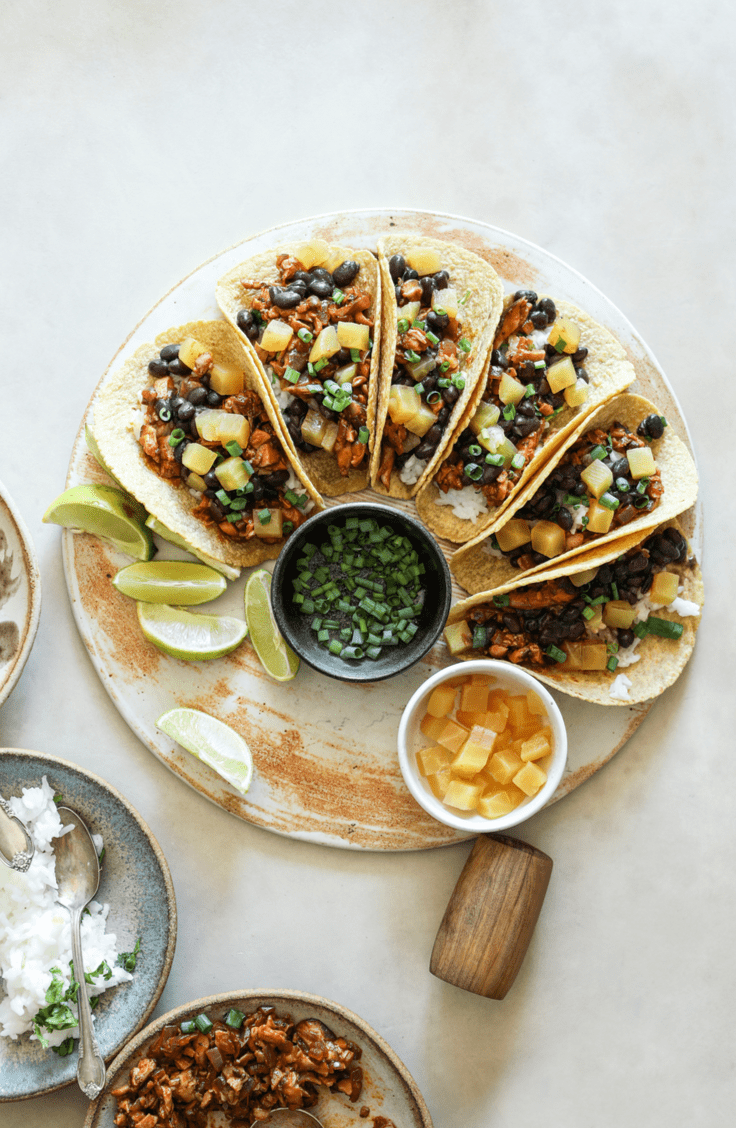 Here are 9 more recipes using another favourite pantry staple, Chickpeas!