When I think of a recipe that speaks to my heart, I can't help but think of my family back east. I had one of the dreamiest childhoods. My Dad loved to cook and entertain and my Mum loved to bake. My sisters and I would come home after to school to the smell of freshly baked delights pretty much every day. One of my all time favourites, still to this day, is my Mum's carrot cake. I have made a few tweaks along the way that I will share with you here:
Carrot Cake Recipe
Ingredients
For the cake:
1¼ cups spelt flour

1 cup baking flour

3 teaspoons baking powder (*see note below)

1 teaspoon baking soda

4 teaspoons cinnamon

½ teaspoon nutmeg

1 teaspoon salt

½ cup (125g) applesauce

1 cup mylk

3 teaspoons vanilla – or more!

1 cup coconut sugar

½ cup melted coconut

2 cups grated carrots
For the frosting:
½ cup raw macadamia nuts (soaked, drained and rinsed)*

½ cup raw cashews (soaked, drained and rinsed)*

¼ cup almond milk

¼ cup maple syrup

2 tablespoons coconut oil

1 teaspoon vanilla

2 teaspoons fresh lemon juice

½ teaspoon salt
*** This cream cheese frosting is also awesome!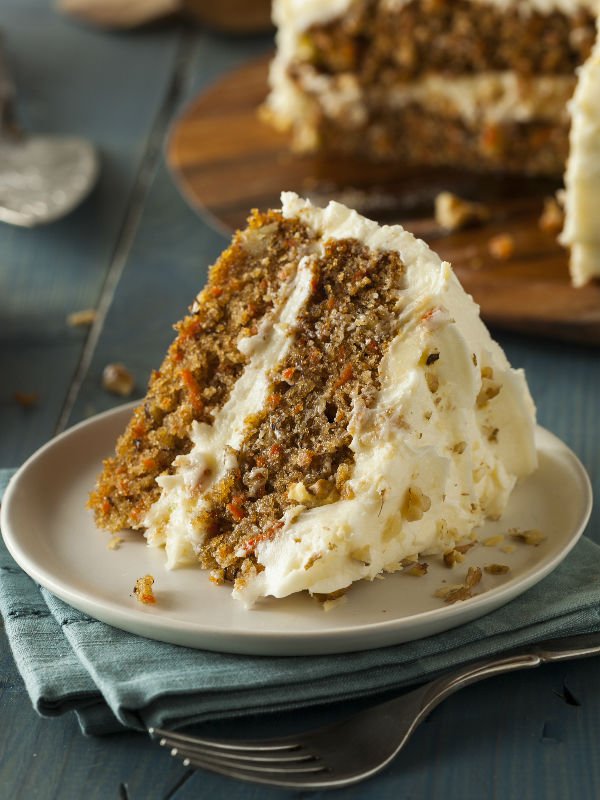 A Registered Holistic Nutritionist and founder of Vancouver-based nutritional consulting firm, My Edible Advice, Jennifer's expertise and practice are rooted in an unwavering commitment: to empower individuals to reach their health and wellness goals by providing them with the tools to thrive.  Jennifer has developed a keen interest in gastrointestinal, prenatal, and oncology nutrition, and her breadth and depth of knowledge in these areas is reflected in her private practice. A maritime girl at heart and west coaster in home, Jennifer seeks solace where the mountains meet the ocean, and finds bliss in the bounty and buzz of a local farmer's markets. She believes that health is happiness, and that to engage, enable, and empower her clients to live their best life is to do the very same for her.