In honour of Women's Day, we want to highlight some of our amazing women lead vendors that we have here at Spud.ca. Let us introduce you to Eve from Eve's Crackers! 
What was your inspiration for starting up Eve's Crackers?
In 2016 I was suffering from eczema. Instead of using over-the-counter creams, I was determined to heal my skin through the power of my food choices. I went on an elimination diet and I found that there was nothing I could snack on that was yummy & met my dietary needs. At the time I wasn't eating gluten, corn, nuts, or sugar so my options were very limited! When I went to the grocery store I found that everything that was gluten free was corn based, and if it wasn't corn based, it was nut based, and I was trying to avoid nuts too. As someone who loves to snack, I needed to find a suitable snack food ASAP. 
I started experimenting in my own kitchen and playing around with homemade flaxseed cracker recipes. Many experiments later Eve's Crackers was born in my home kitchen using simple ingredients that were already in my pantry. You can read more about our story here.
What is your creative process? How do you decide what to feature/create? 
When developing Eve's Crackers flavours I spent many hours experimenting in the kitchen. The good ol' iterative process of trial and error, trial error is how our three flavours came to be.  When I was creating them I pulled a lot of inspiration from blogs and homemade seed-based snack food recipes that I found online. Three cheers to the internet! I hosted focus groups to chat about what people liked, or didn't like in crackers and natural health food snacks that were already on the market. I also spent time scoping out cracker and snack food sections of grocery stores. I still love hanging out in grocery stores… it is so cool to see what people buy and what makes them stop and take a product off the shelf to read the label!
If you could tell yourself one thing before you started your business now, what would it be? 
This is going to be harder than you think!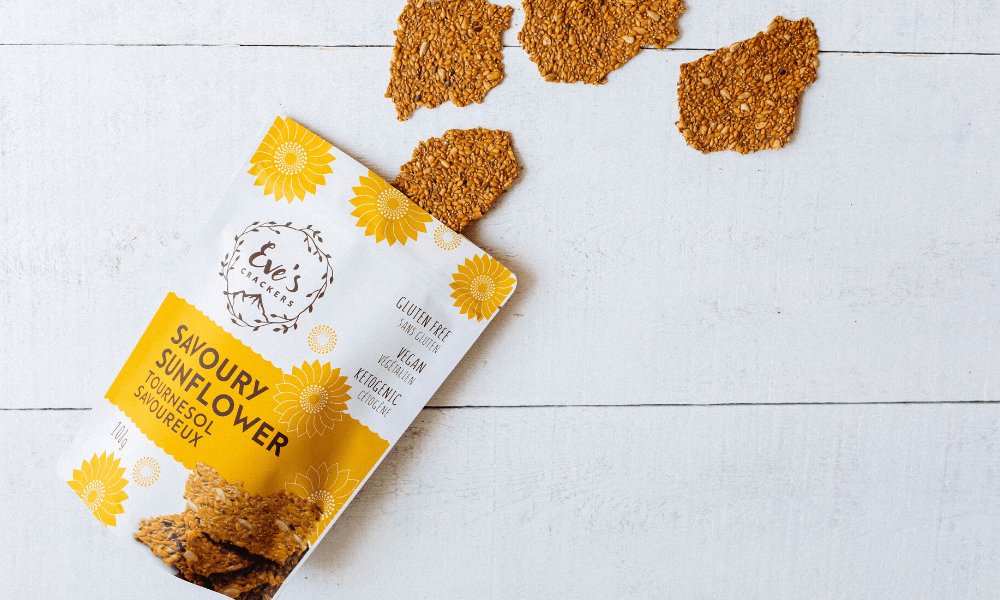 What do you hope to be instilling in your customers through their purchase of Eve's Crackers?
That eating healthy can taste really freaking good!!! One of the things we are most proud of (I say we because Eve's Crackers is now run by myself and my lovely sister and business partner, Sarah) is that our crackers taste really good. They are crunchy, savoury and some even say, addictive. I am obviously very biased so you'll have to try them yourself through Spud (;
Last but not least, what is your favourite cracker from your brand?
I love the Savoury Sunflower! They are so great on their own or paired with smashed avo (:
Why can't we get enough of Eve's Crackers? 
The versatile flavours that meet all dietary needs make these crackers the best. Perfect for people on Keto, vegans, and snackers! Make sure you check out Eve's Crackers and add some to your next delivery.