Today we're stoked to be talking about one of our favourite Edmonton broth companies, Wishbone Wellness! If the prospect of delicious broths wasn't enough to convince you, keep reading for the story behind Wishbone Wellness and some of the reasons we love bone broth:
How it All Started
Broth babes Cris and Jo started Wishbone Wellness in 2017 after going on their own health journeys and discovering the healing benefits of bone broth. After realizing that there was a hole in the market for tasty and affordable bone broth options, these two soup-er heroes decided to fill the gap and create bone broth products that are not only delicious, but also affordable.
Cris and Jo's passion for their company and their customers is obvious and shines through in the ingredients they use in their broths. All of their ingredients are 100% certified organic (with the exception of the kelp, which cannot be certified), and sourced as locally as possible. Even their packaging is locally made (and compostable!). If you run into Cris and Jo at the Downtown Farmers' Market, they can point out to you exactly which vendors they get their ingredients from, which is pretty amazing if you ask us! They even go an extra step to ensure their ingredients are the best of the best, by visiting their suppliers at their farms, and seeing firsthand where their ingredients come from.

Benefits of Bone Broth
Bone broth has been consumed for hundreds of years as a source of nourishment.The benefits of bone broth come from its rich assortment of nutrients, including a variety of minerals, amino acids, and collagen. If some of you are still wondering why broth-er, this list of benefits may help convince you to give it a try!
Supports bone and joint health

A good source of collagen (Hello healthier hair, skin and nails!)

Aids in digestion

Cares for gut health – thanks to gelatin

Improves sleep and memory

Helps to build and repair muscle

Has anti-inflammatory properties

No carbs and low calories

Great for your immune system

Easy to incorporate into your diet

And that's only to name a few!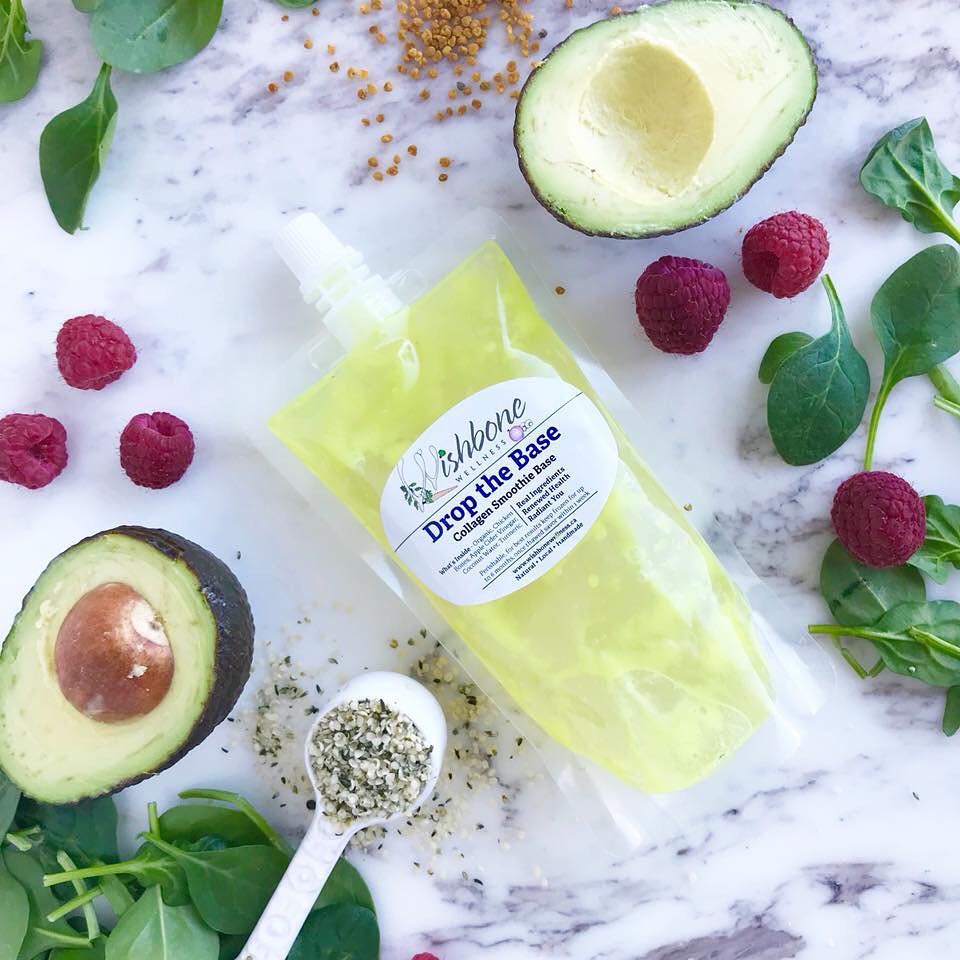 Products
Wishbone Wellness makes four different kinds of broth. Cris' personal favourite is the chicken broth ("The Nest Best Thing") and Jo loves the Bison ("Badass Bison") because it is such a labour of love, simmering for 72 hours! Alllll of their broths are amazing and we can't pick a favourite.
Cris and Jo realized that due to lifestyle choices and dietary restrictions, not everyone can have broth made with bones. So with that in mind, they added a (delicious!) plant based option to their Wishbone Wellness lineup. Cleverly named "The Mermaid Lagoon" because of its main ingredient – kelp. It mimics as closely as possible the nutrient profile of other broths; the kelp replaces bone, coconut oil is used as a healthy source of fat, and mushrooms provide protein.
Wishbone Wellness' most popular product is the collagen smoothie base ("Drop the Base"), and for good reason. Drop the Base is a great value, and is super easy to incorporate into your diet — some people put it in their coffee, orange juice, or as recommended you can put it into your smoothies — whatever way you choose to use it, the collagen smoothie base is a great way to get your daily dose of bone broth.
Wishbone Wellness is a truly amazing company. Cris and Jo's main objective is to help people and heal people, and they go above and beyond to do this. Whatever your reason for consuming bone broth, these broth babes have got your back!