It's World Vegan Day! We are big advocates of eating more plant-based to benefit the planet, animals, and our health! With so many new vegan products on the market, it can be difficult to know what to buy. That's why our team of foodies tried all the vegan products on Spud, so you don't have to! Below are some favourites from our staff as well as one of our favourite vegan recipes!
Our Favourite Vegan Cheese
Miyoko's Organic Sharp-Aged Farmhouse – Taylor
"Best Vegan Cheese, perfect for grilled cheese"

Spread'Em Cashew Nacho Cheese – Emma
"Amazing on burritos, quesadillas and burrito bowls"

Pulse Kitchen Sharp Cashew Cheddar
Favorite for vegan charcuterie

Vio Life Epic Smoked Cheddar
Top pick among multiple Spud team members! This cheese gets super melty, perfect for burgers, paninis and grilled cheese. The subtle smoke flavour is really realistic to dairy cheese!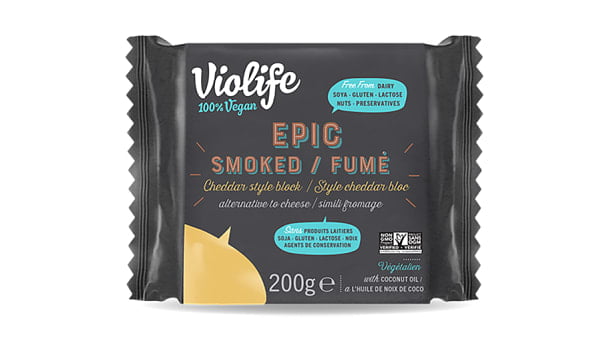 Best Vegan Butters
Earth's Own Dairy-Free Butter Spread
"Creamy, flavourful, and well-seasoned; this is an excellent butter alternative for cooking. It's my favourite for making toast because it spreads so beautifully and tastes so good! I also love that its palm-oil free, and locally made." – Christine
Miyoko's Organic Cultured Vegan Butter 
Rich, well-balanced, and remarkably buttery; this vegan butter is perfect for baking. It makes the best pie crust! I also love it on popcorn, as it has such a classic buttery flavour. Because it has no palm oil or food additives, I feel good about treating myself to this little luxury. 
Best Vegan Treats
Justin's Peanut Butter Cups
"Best Peanut Butter Cups hands down" – Taylor

Dream Pops & Cookie Dough Bites
"The perfect little treat when you are craving something sweet"

Our Favourite Plant-Based Creamers
Plant-Veda Cashew Creamer
Super creamy and made with healthier ingredients!

Earth's Own Oat Nog
A top pick from multiple Spud staff! Perfect for holiday sipping!

Our Favourite Ready to Eat Staples
Wholly Veggie Buffalo Cauliflower
"Adored by everyone in my household, my partners go-to dinner or quick lunch!"

WildBrine Spicy Kimchi Sriracha
"Not too spicy with a pickled, fermented flavour. I put this on everything" – Steph 

JamJar Falafels & Toum
From a Vancouver fan favourite restaurant, ready at home! Perfect for quick and delicious dinners, or serving at dinner parties for falafel night!

The Ultimate Vegan Lasagna 
Print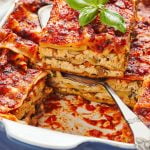 The Ultimate Vegan Lasagna
---
1

Package of Chickapea Lasanaga Noodles (or Lasgana noodles of choice)

1

Package Organic Soft Tofu

2 Tbsp

Nutritional Yeast

2 tsp

salt

1 tsp

garlic powder + extra to sprinkle

1 tsp

oregano + extra to sprinkle

1

Jar Rao's Marinara

4

Beyond Meat Italian Sausages
Vegetables of choice: onion, eggplant, zucchini, or mushrooms
Vio Life Mozzarella Shreds
---
Instructions
First make tofu ricotta: In a food processor; combine 1 package Soyganic Organic Soft Tofu, 2 tablespoons nutritional yeast, 2 tsp salt, 1 tsp garlic powder, 1 tsp oregano, and blend until it resembles soft curds. Boom- incredibly easy homemade vegan ricotta!

 

To make the sauce, crumble 4 Beyond Meat Italian sausages into a pan and cook until browned, option to add any finely chopped vegetables of choice into the sauce. Add remaining marinara sauce, reserving a quarter cup for the bottom of the pan.

 
To Assemble Lasagna:  
Pour ¼ cup Raos Marinara sauce in the bottom of a 9X13 casserole dish. Spread to edges 

 

Layer Chickapea Organic Lasagna Noodles so that it covers the entire bottom of the dish, followed by the marinara sauce, mozzarella shreds, and another layer of noodles.

 

Repeat until the pan is full.

 

Bake at 375 degrees for 45 mins covered with tin foil or pan lid, and another 15 mins uncovered, or until the edges are brown and the cheese is bubbling. 

 

Serve hot with a simple garden salad on the side!

 
Notes
Pro Tip: Serve with homemade vegan garlic bread
Toast a bun, try a GlutenNull Quinoa Bread or a gluten-free option. Mix 2 tablespoons Miyoko's Organic Cultured Vegan Butter with some garlic and oregano, and slather on toasted buns.