Spring break is quickly approaching (wasn't it just Christmas break?). Now it is time to find some activities for kids during the few days off from school. While we all love food and learning here at Spud.ca, why not include some fun activities and kitchen experiments kids can be involved with too. 
Why kitchen experiments? It encourages kids to get involved in the kitchen, and you may have everything that you will need for each of these activities. Also, after the experiments, you can enjoy the creations. Here are three food experiments you and your kids can do. 

Butter in a Jar 
The best butter is homemade butter. Making butter is a fun and tasty kitchen experiment that the entire family will enjoy during the experiment and enjoy even more after it is done! 
You will need: 
Mason Jar with a lid 
Fill your mason jar about ½ way with heavy cream and put the lid on tightly. Shake it up! You will be shaking it up for about 15 minutes. Feel free to stop and check at the 5 min mark. You won't see anything happening for a while but give your arms a break! Keep shaking and taking a break to check, and maybe sneak in a taste test. Continue to shake the jar even if your arms are tired, and you will finally get a clumpy liquid that can be drained out through a sieve, and the solids are butter! 
Save it and enjoy on some toast for an after shaking snack! 
The Science behind it: 
Heavy cream has a good deal of fat molecules in a water-based solution. That's why it can make such delicious items. By shaking the cream, several things happen. Of course, you are forcing air into the cream, making whipping cream, but also the fat molecules begin to separate from the liquid and start to bind together, ending up with butter!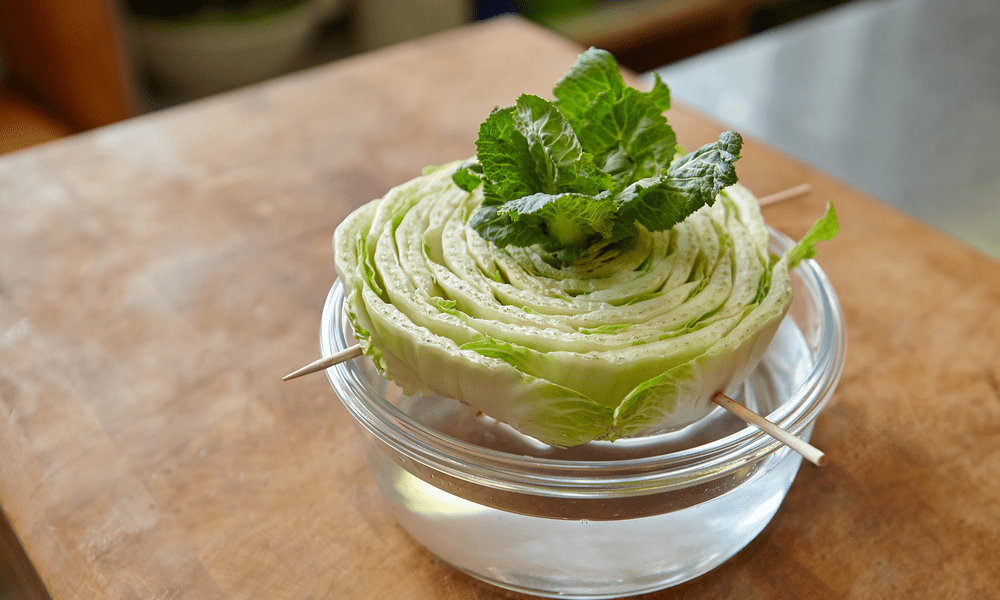 Regrow lettuce
Regrowing vegetables is not just for kids, adults can have fun with it too, and you do not need to limit it only to lettuce, here are 10 vegetables you can regrow using kitchen scraps. 
For our regrowing lettuce activity, simply used the stumps of two romaine hearts. You could also do this activity with any other lettuce you have on hand. 
Place the lettuce hearts in a shallow container of water. Make sure the water does not cover the lettuce just the end where the root was. Change the water each day, and within a day or two, you will start to see new leaves growing and roots stretching into the water. Make sure to put the lettuce on a windowsill for light. 
The Science behind it: 
Growing lettuce has a bit of Science. The roots grown in water are different from the roots grown in soil. The water does not supply nutrients, so the type of growth is different. You may not produce a full head of lettuce. But inside the stump, leaves will begin to grow. However, growing lettuce with kids is simple kitchen science fun.
Sense of Taste 
A fun play with the senses. 
You will need: 
Peeled and Cut apple 
Peeled and cut potato 
Ask your kids to close their eyes and plug their nose and feed them a piece of apple or potato without telling them which is which. Set it on their tongue for about a minute and have them guess without letting go of their nose. Ask them to describe the flavours. 
The Science Behind it: 
Approximately 80–90% of what we know as "taste" is, in fact, due to our sense of smell (think about how dull food tastes when you are sick). At the beginning of this experiment, you might not be able to tell if you're tasting a potato or an apple. But over time, as the apple or potato sits on your tongue, you may notice that you can identify the specific taste. This is because some scent molecules travel up the back of your throat and to your nose.
If you try these kitchen experiments, make sure to share on social and tag us using @Spuddelivers or #Spuddelivers!