Looking for a gift that will be appreciated, and actually get used?
This year. avoid the gift that is well intentioned, but gets stuffed in the closet. Instead, get them something they can really use: a gift certificate for Spud.ca! It's a gift that gives back.
Spud gift certificates are a quick and easy way to spread the joy of healthy living. Recipients can spend their gift certificate on organic produce, artisanal products, delicious treats, supplements, health and beauty products, and more! PLUS, when you buy a Spud gift certificate, you'll receive a Spud credit of your own, and we'll buy a hot meal for someone who needs it through one of our local charities.
Here's the breakdown:
When you shop for a

$100 gift certificate

, you'll get a $10 Spud credit, and we'll give one hot meal.

When you shop for a

$150 gift certificate

, you'll get a $15 Spud credit, and we'll give two hot meals.

When you shop

$200 or more

, you'll get a $25 Spud credit, and we'll give three hot meals.
How do I shop gift certificates?
Fill in your information, as well as the recipient's name and email.

Send! Orders will be processed by PayPal.

After your purchase has been completed, the gift certificate recipient will receive an email with the gift certificate amount, your personalized message, and instructions on how to redeem their gift certificate. If you want to print the gift certificate, you'll receive a PDF by email for you to print at home.

You will also receive a confirmation email after completing your purchase. If you have purchased a gift card of $100 or more, scroll down to the bottom of your email to find the customer code you can use to redeem your credits.
Note: *Gift Certificate recipients must live within one of our delivery areas.
How do I receive my credit?
When your purchase a gift certificate over $100, you can receive Spud credits of your own. To redeem this credit, scroll to the bottom of your confirmation email after you purchase your gift. Here, you will find a promo code that can be used at your next grocery checkout with us!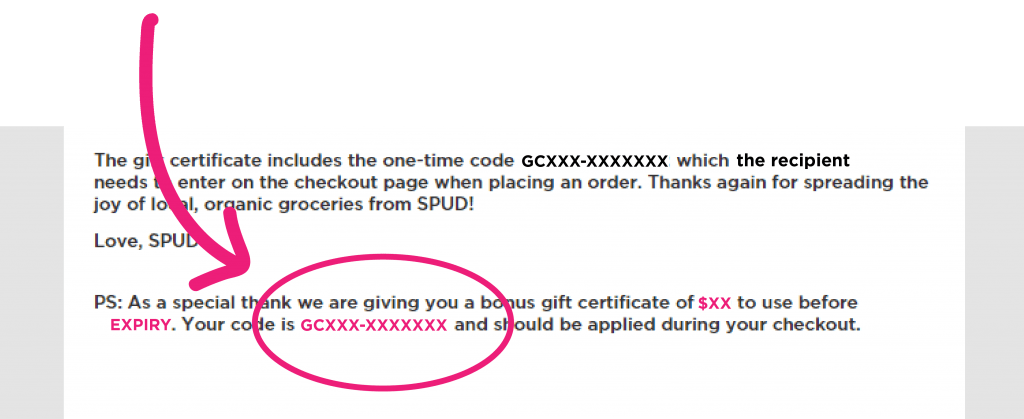 Where are these hot meals going?
Good question! We are proud to be supporting our communities through these four amazing charities in Vancouver, Victoria, Calgary and Edmonton.
Vancouver: Union Gospel Mission

Victoria: Our Place Society

Calgary: Inn From The Cold

Edmonton: The Bissell Centre


And that's it! It's an easy, convenient way to give a practical, nourishing  gift to the people you love. What could be better? Happy holidays everyone!