I have often tasted something at a restaurant and strived to recreate it at home; usually with a great deal of success. I am lucky and never take my luck for granted. My favourite frozen dessert is So Delicious Salted Caramel Cluster Cashew Ice Cream. Yesterday, I decided I would try to recreate that taste into a vegan salted caramel cheesecake or as we have nicknamed it: Evil Decadence! When I made it, I wrote nothing down and had no measuring devices so here, I will try to recreate it on paper. Including the base, there are four layers of deliciousness, the first three mixed individually in my Vitamix.
Base
1 ½ cups of pecans
1 cup chopped dates
¼ cup maple sugar
¼ tsp of Himalayan salt
1 T. coconut oil
Salted Caramel Spread
15 pitted medjool dates
2 rounded tablespoons cashew butter (warmed up)
2 T. melted coconut oil
2 T. warm unsweetened cashew milk
½ tsp Himalayan pink salt
Caramel Cheesecake
3 cups of pre-soaked cashews, drained (soaked overnight)
1/3 – ½ cup melted coconut oil
½ cup maple syrup
Juice of one fresh lemon
1 tsp vanilla extract
¼ tsp of Himalayan pink salt
Salted Caramel Topping
1 cup Coconut sugar
¼ cup Maple Syrup
2 T. Coconut oil
¼ tsp of Himalayan pink salt
First, using a Vitamix or food processor, mix the ingredients for the base. The pecans and dates should be crumbly and sticky. Press the mixture into a 9 inch spring form pan. Refrigerate
Second, blend the ingredients into a smooth spread. I recommend warming the ingredients before mixing so that they blend easier. This should be the consistency of thick peanut butter. Spread it over the date/pecan base. Refrigerate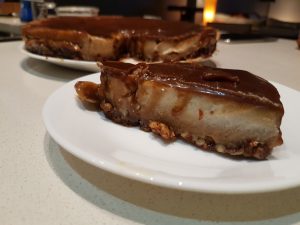 Third, blend all ingredients together to form a thick cheesy mixture. Pour over the pecan base and caramel spread. Refrigerate
Fourth, put all ingredients in a saucepan and cook over a medium heat until melted. Turn heat down to low and simmer for 20 – 30 minutes, stirring often. The longer you cook this the thicker it will be. Pour over the cheesecake mixture and let cool for at least four hours.
I use a Vitamix and every layer required patience and persistence. The base is sticky so it took some tampering to get it properly mixed. Likewise the caramel spread was super thick but by warming the ingredients first, they mixed very well. This dessert is super rich, super decadent and now that I have written this out, will be easy to replicate. Enjoy!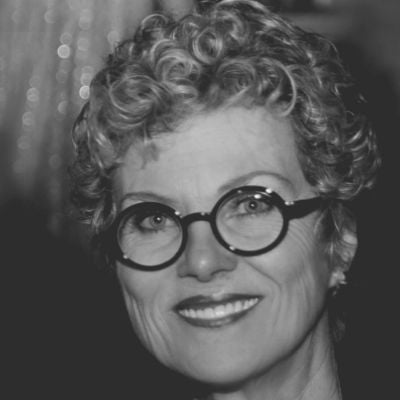 Susan Hollingshead
Susan is our resident vegan. She's been a vegetarian for 20 years, and a vegan for 3. She has researched both lifestyles extensively and is constantly exploring new recipes, add her own twist. She is a long time Spud customer, and now our very own resident vegan blogger!