The Fat Bomb: the new craze that's crossin' the nation. But are these tasty tidbits a trend or are they actually what we should be eating? For the past few decades, big food corporations drilled into us that fats were the devil. Of course, there are good fats and bad fats, but this trend portrayed all fats in a bad light. This was a sneaky plan to keep a deadlier food under the radar: sugar. These companies would throw sugar into everything–sauces, spreads, and snacks–because it was cheap, readily available, and frankly, it would keep people coming back for more. Sugar addictions became a real thing and the food companies started raking in the cash, all while fats got a bad rep.
Why You Need To Eat More Fats
Fats still have a bad name today, but they're slowly regaining the love they deserve. We've finally shattered the perception that not all fats are bad for you and most are good for you! While there are some bad fats (almost entirely trans fats in processed foods), most are well and necessary. Good fats include monounsaturated fats (found in olive oil or avocados for example), or polyunsaturated fats (omega 3's and 6's found in fish, nuts, and seeds). They keep your brain functioning properly, your energy stable, and your heart healthy (good fats lower cholesterol—contrary to what was previously thought). Healthy fats also keep you feeling full for longer, which cuts out energy crashes and reduces sugar cravings. Basically, fats are the way to go! To cut back on sugars and work more healthy fats into your diet, try replacing your mid-day fruit bar with a Fat Bomb.
Quick and Easy Homemade Fat Bomb Recipes
The great thing about Fat Bombs is that there are tons of different ways to make them. You can throw in some nuts, seeds, powders–anything–and they'll usually work out. They're also quick and easy, so you can make a bunch and store them in your freezer for a post-workout snack or midday pick-me-up. 
This first recipe filled with almonds, nut butter, and shredded coconut is dense, crunchy and filling.  Almonds are a pretty magical food. They contain good fats, fibre, vitamin E, magnesium, manganese, and a load of antioxidants. Plus they're delicious and easy to make – pretty much all you could ever want from a food. You'll love them!
This recipe is a staple. We love 'em because they're simple, so you can add other fixings to dress them up however you want. You can use pretty much whatever nut butter, nuts, and seeds you have on hand. Either add cacao for a chocolatey one, our DIY Pumpkin Spice Mix for a fall version, or get creative and come up with your own!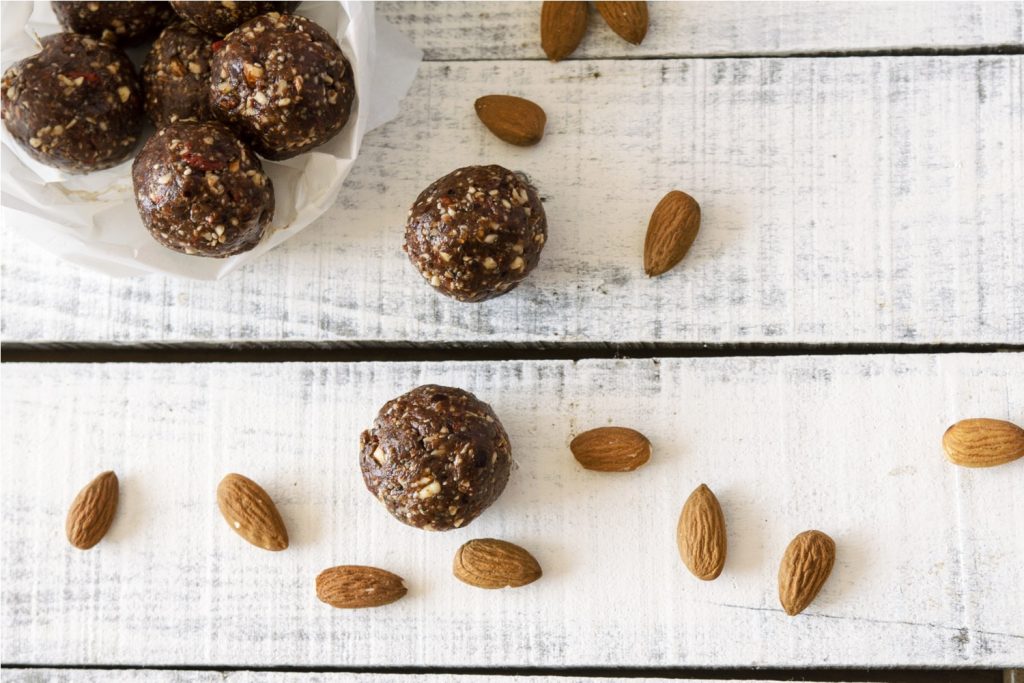 These fat bombs are super simple – just 4 ingredients! The sharpness of the lemon helps cut through
Ingredients
1 cup coconut butter, softened
1/4 cup coconut oil, softened
1-2 tbsp organic lemon zest
stevia (or other sweetener)to taste
Directions
Combine ingredients in a bowl and mix well.
Fill mini muffin wrappers or candy molds with around 1 tbsp of the mixture, place on a tray and refrigerate 30-60 min until solid
Keep refrigerated until you eat them – they'll soften at room temp!
*Optional – for a ball shape, cool the combined ingredients until the mixture is firm enough to form into balls. Roll the balls in shredded coconut and store in the fridge.
There are other ways to incorporate healthy fats into your diet, too–such as avocados or fresh salmon in salads. However, since most snacks are quite sweet, these Fat Bombs are a great snack alternative (goodbye sugary granola bars!). We currently have these two recipes to tide you over, but what Fat Bomb recipes can you come up with? We'd love to hear your ideas!