Benefits of Fermented Foods
Rich in Probiotics: Your gut and brain love fermented foods. They are super rich in probiotics adding beneficial bacteria and enzymes to your gut microbiome.

Gut Health:

We produce most of the neurotransmitters in our gut, serotonin and dopamine are well-known neurotransmitters. 95% of our serotonin and 50% of our dopamine is produced in the gut. Thus, our gut health significantly impacts our mood, sleep, memory, motivation, immunity (your gut is home to 70% of your immune system cells), digestion, absorption, and mental health.

Gut-Brain Connection: There is bi-directional communication between the gut and brain – think of having butterflies in your stomach when you are nervous! When you eat, your brain should send signals and blood flow to the intestines and gut for digestion. If there is poor communication within the brain, the gut may not receive the right cues for digestion and elimination.

Pure Water Kefir
From Squamish Water Kefir Co., their pure, unflavoured Water Kefir is an easy way to eat more fermented foods! Blend it into smoothies, take it as a daily gut shot or use in a simple salad dressing. Recipe below! Shop all of Squamish Kefir Co. products!
Print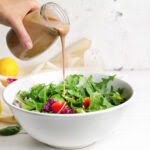 Probiotic Tahini Dressing
---
Description
Massage this creamy tahini dressing into a kale salad for extra gut-boosting benefits!
---
1/3 cup tahini
3-6 Tbsp Water Kefir 3 Tbsp lemon juice 1 Tbsp extra virgin olive oil 1 pinch sea salt (optional)
---
Instructions
Whisk all ingredients until smooth, and then massage into a kale salad. Add in crispy chickpeas for added crunch.
How much water Kefir should your drink a day?
1/4 cup a day is a great start, then slowly work up as your gut adjusts to the bacteria rebalancing. As a replacement for a supplement, even this small amount contains millions of probiotics, the perfect amount for a daily dose.
How many probiotics are in each drink?
Squamish Kefir Water has over 2-Billion CFU (colony forming unit) per 355ml can. That's over 1.4-Billion per cup, or over 350-Million per 1/4 cup of Water Kefir.

About Squamish Kefir
Squamish Water Kefir Co. was founded in 2015 by Sabrina Horlyck and Kristin Campbell, both self-proclaimed health nuts who had long suffered from their own nagging gut issues until they found relief from adding fermented foods into their diets.

The first batch was brewed in Sabrina's kitchen while she was studying at the Canadian School of Natural Nutrition and on a personal quest to cure her intestinal issues. She was quickly amazed by the results she felt, and even more ecstatic about how much her family loved it. Soon Sabrina was delivering to friends and neighbors in a little red wagon with her wee daughter in the back. 
The defining moment… a text message from a stranger that they had tried her 'magic potion'…  She knew she was onto something good. 
Soon the mad scientist lab in our kitchens could no longer keep up with orders coming in. So, we expanded. 
The company has since grown from a small kitchen party operation and has expanded to new product innovations and distribution from BC to Quebec. They are proud to be producing delicious functional food products that are brimming with healthy probiotics and digestive enzymes, contributing to the health of your gut and overall well-being.

Traditional cultures have a long history of using fermented food or drink as a staple in their diets, and these ancient crystals have passed through thousands of hands before finding their way to our kitchen –  we think it's important to keep this time-tested wisdom from the past and apply it to our modern lives.
Water kefir is a centuries-old fermented drink that is packed full of the probiotics and beneficial enzymes that our bodies love.